No Comments
Vilano Midtown 26 Inch Folding Bike Review - Folding Bike 20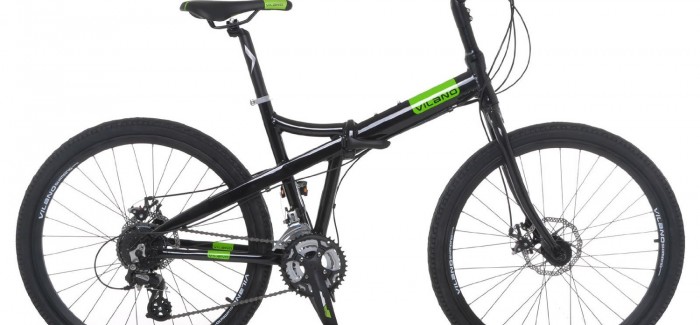 The Vilano Midtown is a full size folding bike, equipped with 26 inch wheels. It is a budget friendly bike which means there are quite a few cheap components and much of the bike will need tightening and tuning right out of the box. For a folding bike it is quite heavy weighing over 30 lbs.
Specifications
Colors: Black/Green or Champagne/Orange
Frame: Lightweight Aluminum – Folding
Drivetrain: Shimano 24 Speed
Rear Derailleur: Shimano Altus 8 speed
Front Derailleur: Altus Triple
Shifters: Altus
Stem: Promax
Fork: Steel
Folding Pedals
Wheels: 26 Inch – Kendra Kross Tires (Slick center for pavement & side knobs for cornering traction)
Brakes: Disc Brakes
Safety Latching Mechanism
Bike Weight: 35 lbs.
Weight Capacity: 250 lbs.
Images
Performance
Right out of this box this bike was not road worthy. It needed a LOT of adjustments. Due to the price and the quality of the components some of that is to be expected. But I really can't recommend this bike to a newbie unless you factor in the cost of taking it to a professional.
Once the bike was ready to go there wasn't too much to complain about. The frame seemed solid and it was easy to fold and unfold. It is equipped for 24 speeds so it can handle more hills and the tires are sturdy with decent traction. However, this bike is heavy for a folder – even for a full sized folder. The handle grips are not fixed so they slide some and the pedals fold but are cheap so I am not positive they will hold up over time.
In this situation the bike is priced on the lower end and the feedback I have found from other customers is that the ones that like it are willing to make changes and customize the bike. This seems to me to be a bike good for a DIY, knowledgeable cyclist.
Pros
Full size folding bike
24 speeds
Low cost
Cons
Shipping damage seems common
Adjusting & tightening required
Heavy!
Hand grips slide