No Comments
MINI Cooper Folding Bike Review - Folding Bike 20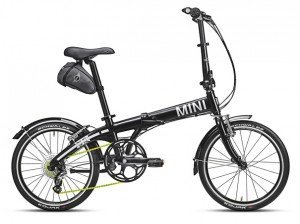 Being a fan of MINI Cooper might be a prerequisite for purchasing the MINI Cooper folding bike. It is a flashy advertisement on 2 wheels. But at the same time it is built with solid components, equipped with 8 speeds, and could be a solid choice for any commuter with a tiny trunk.
Specifications
Dealer Price: $563.00
Color: Black or Lime
Weight: 24 lbs.
Speeds: 8
Frame: Aluminum
Fork: Dahon Slipstream, Aluminum
Stem: Aluminum, Height Adjustable, 2x Quick Release
Handlebar: Kintetix
Shift System: NEOS.2 for 8-speed
Brakes: Kinetix V-brakes, front & rear
Brake Lever: Avid FR5 Aluminum
Wheels: 20 Inch – Tires Schwalbe KOJAK 35-406 Dahon special edition
Inner Tubes: Schwalbe Unitube 20" AV6 (with car valve)
Chain: Taya Chain OCTO, Teflon-Coated
Pedals: Folding, Aluminum Body, Non-Slip
Saddle: Selle Royal Gel
Saddle Clamp: Dahon "Turtleneck" with quick release
Touch-up Paint Included
Images
Performance
At first glance this MINI Cooper folding bike might look like a gimmick or a last minute add on to the purchase of a MINI Cooper vehicle. And that might be true. This bike was specifically designed to fit in the back of the MINI Cooper. But I was surprised that underneath the vibrant, flashy exterior that the overall quality of the bike was there. I found it very comparable to Dahon quality- the leader in folding bike design and manufacturing.
Some of the quality elements I noticed were the Schwalbe KOJAK tires. They mean this bike is built with speed and durability in mind, but also that this is a pavement only bike. Great for city commuting or quick trips around town. The Selle Royal Gel saddle is comfortable and the frame is solid with no squeaks or rattles. The shifting could have been a little smoother but the 8 speeds did well on my test ride. Moderate hills in a commute are no problem.
This bike has been compared to many of Dahon's bikes including the Dahon Speed P8, Dahon Vybe, and Dahon Eco C7. If considering the MINI Cooper folding bike I would suggest taking a look at these Dahon versions as well before making a final decision. If the MINI is the bike that comes out on top keep in mind that Dahon accessories also fit this bike.
Before selecting the appropriate folding bike make sure to consider how often, where, and how long your rides will be. Where will you most frequently be heading? Are there lots of hills? Or is it mainly flat? Are there bike lanes and paved roads or will you need something with a bit more capability? Considering all of these details will help you choose a bike that's right for you!
Pros
8 Speeds
Quality bike
Touch-up paint included
Cons
For MINI Cooper fans only