No Comments
Allen Sports Central 7 Speed Folding Bike Review - Folding Bike 20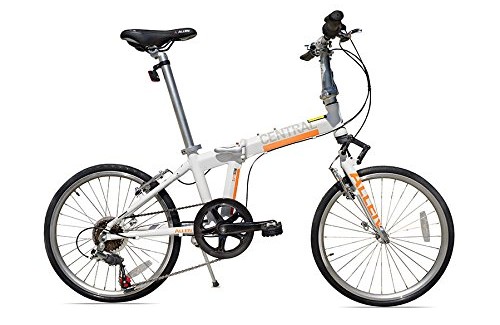 The Allen Sports Central ranks in the middle of the Allen Sports folding bike line up for design, capability and price. It is competitive in the 7 speed category with a patented four link front suspension, aluminum frame and weight of 25 lbs. The Central is a great middle of the road commuter bike option!
Specifications
MSRP: $999
Colors: White
Speed: 7
Weight: 24.9 lbs (11.3 kg)
Folded Dimensions: 33.5 x 14 x 31.5 inches (85cm x 35cm x 80cm)
Tires: 20″ x 1-3/8″
Valve on tire: Presta
Wheel Size: 451mm
Frame: 6061 Aluminum
Forks: 6061 Aluminum
Handlebar: Aluminum
Handlebar Post: Alloy Adjustable
Saddle: DDK 3166
Rims: Shinning Alloy
Crank Set: Samox
Front Brake: Alhonga
Rear Brake: Alhonga
Seat Post: Aluminum
Pedals: Folding
Maximum rider weight: 242 lbs (110 kg)
Images
Performance
Allen Sports is know for their lightweight folding bikes. Along with pushing the envelope for the lightest bikes on the market they are also creating an experience with their patented features like no other brand. The patented press-link folding system is a design that provides the bike with extra stability while riding but collapses incredibly easily and quickly. In addition each bike comes with a patented wheel lock system so that the bike can be pushed like a cart in the folded position. Even though the Central only weighs 25 lbs. it is still not required to be carried when folded.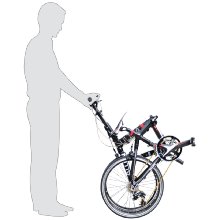 Originally priced at $999 – the Central is a great value on sale for nearly half the cost. It ranks right in the middle of the Allen Sports' folding bike spectrum. And is uniquely defined by its four link front suspension. This extra increase in shock absorption creates a smoother ride and competes well against other commuter bikes in its sale price range. However it is not easily carried without a strap to lock the bike in the folded position. Unless there is room to use the cart like feature I would rather not carry this bike longer distances.
The Central can definitely handle most commutes. It is really up to the rider to define what is most important on a daily basis and the budget that works for them. Like most of the Allen Sports folding bikes the Central comes with the 451mm wheels. Plenty of capability is packed in the 7 speed Shimano deraileur and shifters. Conquering moderate hills is no problem. The handle bars are adjustable on this model and this is the cheapest Allen Sports folding bike with this feature.
If you are not quite sure about the Central, I recommend comparing it to the Allen Sports Urban X – it shares many features with the Central and is also a 7 speed folding bike. The Urban X is cheaper and does not come with the four link front suspension but could be the right bike for you!
Conclusion
Pros
Lightweight – 25 lbs.
7 Speeds
Patented Wheel Lock System
Patented Four Link Front Suspension
Cons
Does Not Lock in Folded Position
High Price – Not on Sale