No Comments
Sueh Q1 - 7 Speed Folding Bike Review - Folding Bike 20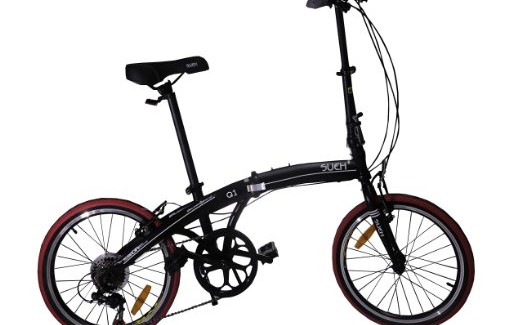 This bike can get you from point A to point B. It folds and unfolds. It shifts gears. This bike is one of the cheapest folding bikes out there.
Specifications
Colors: Orange, Black, White
Frame: Aluminum & Steel
Fork: Aluminum
Stem: Steel (adjustable height) SUEH
Handlebar: Aluminum 54cm
Seapost: 40mm x 510mm SUEH
Shifter: 7 speed SUEH
Brake Levers: SUEH
Brakes: Hui Hong disk system for SUEH
Derailleur: Speed system SHIMANO (7 speed)
Crankset: Steel SUEH
Cassette: Shimano 7 speed
Chain: SUEH
Rims: Aluminum SUEH 28 holes
Hubs: Aluminum SUEH
Spokes: Stainless Steel SUEH
Tires: Zhao Yang 20″
Tubes: Zhao Yang
Pedals: Plastic
Weight: Approx. 13.85kg or 30.53 lbs
Bike Size: 152cm(L) x 100/123cm(H) or 59.84″(L) x 39.37″/48.42″(H)
Folding Size: 82cm"(L) x 58.4cm (H) x 33cm (D) or 32.28″(L) x 23″(H) x 13(D)
Folding Time: Approx. 10 to 15 Seconds
Warranty: 6 months
Images
Performance
I have a hard time critiquing the Sueh Q1 because I can't really recommend it. Especially not for commuting everyday. It is a situation where you get what you paid for. The ride is rough and the bike vibrates. It does not collapse down all that small and it is too heavy to carry around. It's a cheap folding bike.
But it still is a folding bike so if you don't care about all those other things then I guess this could be the right bike for you!
Conclusion
Pros
Cons
Vibrates
Non-folding Pedals
Size – Too big when folded
Heavy – Over 30 lbs