No Comments
Camp Thunderbolt Folding Bike Review - Folding Bike 20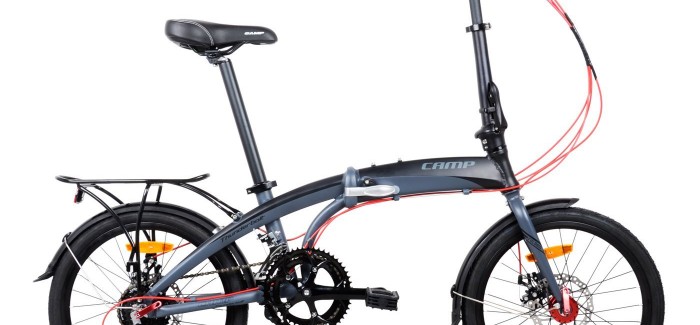 The Camp Thunderbolt is a great choice for commutes and recreation alike. It handles hills and is priced well for its 16 speeds, dual disk brakes and lighter weight (29 lbs).
Among the bike's key features are: 16 speed rear derailleur (that makes it possible for you to ride on any type of the road easily), adjustable kickstand, adjustable handlebar, alloy seal bearing hub, cassette freewheel 12-32T, folding pedal with reflectors, front and rear fenders, foldable stem, rear rack and many others.
It's also important to note that the Camp Thunderbolt comes with a foldable frame. All of this means that you'll find it easy to fold/unfold a bike when such a need arises. It's worth noting that you should take only three steps to fold/unfold the Camp Thunderbolt bike. Keep in mind that folding/unfolding process takes no longer than 15 seconds.
Another important thing that you need to be aware of is that the bike's frame is covered with small rubber protector. That means that you are unlikely to scratch the paint on bike's frame when folding or unfolding the Camp Thunderbolt.
What is great about the Camp Thunderbolt is that the bike is versatile. With such a folding bike as Camp Thunderbolt you'll be able to ride on any type of a road. In other words, you'll be able to ride up and down hills, on the beach, around the city, in rural areas, on bike paths or anywhere you want.
This review gives you the perfect opportunity to learn more about the Camp Thunderbolt folding bike. Here, you'll be able to find everything you need to know about the bike – Camp Thunderbolt bike's specifications and images. Also, we'll tell you about the bike's performance. Plus, we'll outline the most important advantages of the bike. Like any bike, the Camp Thunderbolt has its own drawbacks. Bear in mind that you'll be able to get familiar with bike's cons if you read this review. Finally, we'll help you come up with a conclusion.
Specifications
MSRP: $599
Colors: Blue, Grey, Orange, Yellow
Speed: 16
Weight: 29 lbs
Folded Dimensions: 33 x 14 x 26 inches
Frame: Aluminum Alloy Folding
Shimano 16-Speed Altus Derailleur
Microshift Shifter 2×8
Dual Disc Brakes
Compass Tire 20″x 1.5″ and Alloy Rims
Black Fenders and Rear Rack
Quick Release Alloy Seat Post 19″
Adjustable Quick Release Stem
Foldable Pedals with Reflectors
Quick Release Handlebar 24″
Adjustable Kickstand
Rider's Height Range: 4'8″-6'6″
Rider's Max Weight: 230 lbs
Images
Performance
Unpacking and setup was a breeze. I have the grey Camp Thunderbolt and it looks very nice. The frame is very sturdy but easy to maneuver, fold, unfold and store. Folding pedals limit problems loading and unloading in tight spaces. I found the simple magnet feature which keeps the bike in its folded position helpful. It is especially convenient when carrying the bike from one location to the next.
The ride was smooth and comfortable. For the price range 16 speeds is uncommon – 7 is more common. The Camp Thunderbolt handles hills easily and the solid construction feels good. It was easy to trust this bike throughout the ride. Especially the brakes. The dual disc brakes were awesome. These are a great feature and give the bike great stopping power in all weather conditions.
There is really not much to complain about. For a folding bike in the $400-$500 range it definitely sets itself apart. This bike is versatile and can make a lot of customers very happy campers!
Pros
Sturdy Bike
Easy to Fold/Unfold
Highly Adjustable – Seat, Handlebars & Kickstand
Dual Disc Brakes
Includes Fenders & Rear Rack
Not Overpriced
Cons
Not Super Cheap – But you get what you pay for!
Conclusions
The big question is – is the Camp Thunderbolt folding bike worth buying or not? Let's take a closer look at the Camp Thunderbolt folding bike's customer reviews and try to get the answer.
Only one consumer is not happy with the Camp Thunderbolt folding bike. He said that his bike failed technically after one week. The cyclists also said that he found that the bike went heavily. That's why the client returned the bike and requested refund.
If you analyze the statistics carefully, you'll be able to see that the vast majority of customers have left 5 Star reviews about the bike. Cyclists say that the Camp Thunderbolt is a very nice folding bike with beautiful design, great features and excellent performance. According to numerous customer reviews, the Camp Thunderbolt is easy to use, light, compact, very comfortable and high tech bike that work smoothly. It's not hard to take hills with the Camp Thunderbolt folding bike. With this type of a folding bike you'll be able to overcome all challenges on your way quickly and easily. Cyclists also point out that the bike has components which are made of superior quality materials.
As you can see, almost all consumers are happy with the Camp Thunderbolt and only one cyclist is not happy with the bike. Obviously, the Camp Thunderbolt is the perfect choice!