No Comments
Xootr Swift Folding Bike Review - Folding Bike 20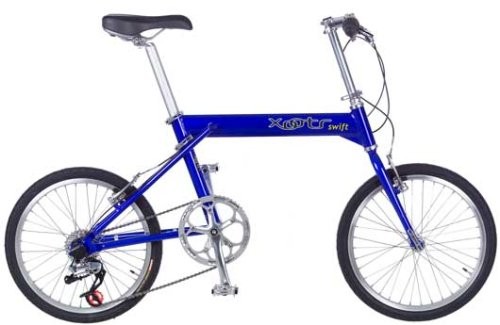 The Xootr Swift is a good, lightweight commuter bike. With 8 speeds it can handle a decent commute. It's only real flaw is the unique folding style which is easy and quick but does not collapse the bike down very small.
The Xootr Swift is a folding bike that really needs no introduction in the world of cycling. It's worth noting that this type of a lightweight folding bike has become a good alternative to heavyweight bikes from famous brands such as Allen Sports, Brompton, Dahon and others.
The bike itself is very functional and has a lot of unique features. And of course, this helps the bike stand out from the crowd. You need to know that the Xootr Swift folding bike performs very well on different types of reads. With such a folding bike as the Xootr Swift you'll definitely find it easy to ride in all conditions.
With the Xootr Swift folding bike you'll find it easy to ride on streets and paths of the city. Also, you will find it comfortable to ride the bike in rural areas. It's also important to note that the bike performs very well both on short and long distances. However, you may experience some vibrations in you ride a bike on uneven surfaces.
What are key features of the bike? How does the Xootr Swift folding bike make a difference? Does the bike perform well? What pros and cons of the Xootr Swift folding bike? How does the Xootr Swift folding bike look like? Actually, these are the most common questions which are asked by people about the Xootr Swift folding bike. Below, we'll give you some insights into the bike and help you find the answers to all of these important questions.
Specifications
Frame: 6061-T6 custom-profiled aluminum, Patented TrusFold system
Fork: CroMoly, straight taper, 100 mm spacing
Rims: Aluminum box-section rims, double wall with eyelets, machined sides
Spokes: 14 G x 2 mm stainless steel
Spoke count: 36
Lacing pattern: 3 cross
Hubs: Quando CNC machined hubs with sealed bearings
Tires: Kenda Kwest 20 x 1.5 65 psi tire with schrader valve tube
Cassette: SRAM PG-850 11-28T
Rear derailleur: SRAM SX4, medium cage
Shift lever: 8-speed SRAM SX5 twist shifter, indexed
Chainring: 52T, 130 mm BCD with chaingaurd
Chain: KMC Z72 1/2″ x 3/32″, 108 links
Cranks: 170 mm aluminum alloy, square taper
Pedals: Wellgo LU-964, aluminum alloy cage and body, Cro-Mo spindle, toe clip mountable
Brakes: Tektro M710 V-Brake
Brake levers: Tektro TS325A levers
Handlebar: 25.4 mm x 500 mm x 6D 6061-T6 aluminum alloy with SRAM rubber grips
Riser: 250 mmL CroMoly with braze-ons for a standard water bottle cage
Seat: Velo VLG-3029 Plush Comfort with Ozone
Seat post: 6061-T6 aluminum, 34.0 mm OD, microadjust clamp
Folded dimensions: 36.5″ L x 40.25″ H x 20″ W.
Weight: 25 lbs (11.3 kgs)
Images
Performance
The Swift is a good, solid bike. It competes well in riding ability and comfort. The 20″ tires are very comparable to other commuter bikes and 8 speeds makes this bike commute worthy. At 25 lbs. it is light enough to carry when needed but still feels rigid and solid during the ride. Although the seat post and handle bars are not adjustable, this bike is designed with standard parts so they can be easily switched out.
If purchased directly through Xootr there are quite a few customizations that can be made at the time of purchase. You can add a kickstand or folding pedals; upgrade the saddle or seat post. But if you may want to buy the stock model and do those customizations later then you can do that too. Once you have a chance to ride the bike you'll know what changes you should make.
My biggest complaint is the folded size. For a folding bike it really doesn't get that small. I feel like that is a major problem especially since customers are buying folding bikes for that very reason. It folds enough to make storage easier or getting on an elevator do-able. But if you are going to be getting on a train or bus or any other public transportation then I wouldn't recommend it. It can break down smaller but takes more steps and you will need a case.
Pros:
It's crucial for you to know that Xootr Swift is a folding bike delivers multiple significant benefits to cyclists of all skill levels. Below, we'll explain to you briefly how you can benefit from the bike.
The bike is lightweight. That means that you'll find it hard to carry a bike when such a need arises.
It's easy to fold and unfold the bike. Folding/unfolding process is simple and doesn't take too much time.
The Xootr Swift is a highly customizable folding bike. So, you'll be able to customize your bike for any of any of your needs fast and easy.
The bike is made of high quality materials that last for a long time. That's the reason why the bike is durable and doesn't need frequent repairs.
Cons:
Obviously, you should be very selective when it comes to picking a folding bike. This is something that helps cyclists make a smart choice. In other words, you need to know both pros and cons of a folding bike. Like any folding bike, Xootr Swift has its own drawbacks.  Now, let's talk about the disadvantages of Xootr Swift folding bike.
Non-adjustable Seat Post & Handle Bars
Doesn't fold down small enough!
Conclusion
Generally speaking, Xootr Swift has recommended itself as a unique folding bike. It goes without saying that the bicycle impresses cyclists with its beautiful design, unique features and comfort. As we have already mentioned, the bike is not small in size when it's folded. So, you may find it difficult to take a bike on public transportation. That's the reason why it's not recommended to buy this bike for travelers. However, the Xootr Swift folding bike would be the perfect option for cyclists who need to travel around the city every day.