One Comment
Dahon Boardwalk Folding Bike Review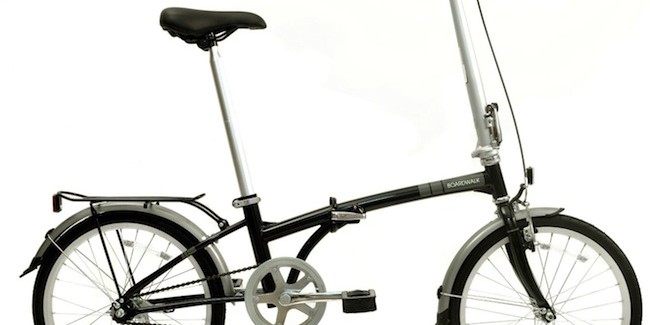 Dahon Boardwalk Folding Cycle would be the new creation of Dahon. This folding bike is incredibly suitable for those who require a folder that might be used for day to day activities.
Dahon Boardwalk Folding bike is known for being one of the most popular bikes in Dahon's collection and one of the best selling folding bikes available for sale these days. On the other hand, this model is known as one of the cheapest Dahon's folding bikes.
What is great about Dahon Boardwalk Folding bike is that the bike is a suitable option for cyclists of all sizes. The bike itself is highly customizable. Keep in mind that you'll find it easy to adjust the bike's stem and seat post. It's worth noting that people who are 5 – 7 feet tall will find it easy to drive the bike.
It's also important to note that Dahon Boardwalk Folding Cycle is an easy to use folding bike. It will take you up to 15 seconds to fold (or unfold) the bike whenever such a need arises. That means that you'll not find it hard to carry the bike on public transport.
It's fair to say that Dahon Boardwalk Folding Cycle is a universal bike. It's a great idea to use the bike for quick jaunts around town and commuting. Cyclists also say that it's comfortable to ride a bike in mountains. A lot of cyclists also choose to use the bike for recreational rides.
Among the bike's key features are: kickstand, fenders, alloy v breaks as well as a rear back. Dahon Boardwalk Folding Cycle also makes a difference as a folding bike as the bike with great classic design and high quality construction. That means that the bike has everything that's needed for a fast, comfortable and safe drive.
Another important thing that you need to be aware of is that Dahon Boardwalk Folding bike is available at affordable price. That's the reason why so many cyclists are eager to know whether this type of a folding bike is worth buying or not. Let's try to get the answer to this very important question.
Below, we would like to give you some insights into the bike. In this Dahon Boardwalk Folding bike review you'll be able to find Unboxing & Assembly Video, Folding and Unfolding Video as well as the information on bike's features and specifications and performance. Above all, we'll outline the bike's pros and cons. So, you'll get a great opportunity to learn more about the bike's advantages and disadvantages. Hopefully, all of this will undoubtedly help you make your own conclusions about Dahon Boardwalk Folding Cycle. As a result, you'll be able to decide whether the bike is worth buying or not.
Unboxing & Assembly Video
Features and Specifications
Color: Obsidian
Weight: 27.3 lbs (12.3 kg)
Folded size: 12.6″ x 29.5″ x 26.0″ (32 x 75 x 66 cm)
Tires: K-193 20 x 1.5″
Rims: Aluminum
Frame: HT Series, Hi-Tensile steel.
ViseGrip hinge.
Fork: Steel
Gear inches: 22″-95″
Handlepost: steel, unadjustable
Handleset: 6061-T6 ALLOY
Nice Fusion headset of Dahon with bearings.
Grips: XH-G49
Saddle: VL4022A
Seatpost: 580 mm Alloy
Brakes: ProMax V
Front hub: AE-20.1F 5/16 x 14G x 28H x 74 x 115
Rear hub: KT-305R (B) 3/8 x 14G x 28H x 110 x 150 mm
Spokes: 18/8 stainless steel
Crankset: 1/2″ x 1/8″ x 44T x 170, Steel
Chain: KMC Z-410
Pedals: Folding NW-319
Aluminum kickstand
Bottom bracket: chromoly axle
Luggage Bracket: frame integrated
Suggested Rider Height: 4'8″ – 6'4″ (142 – 193 cm)
Maximum Rider Weight: 230 lbs (105 kg)
Shipping weight: 36 lbs (16.5 kgs)
Box dimensions: 33″ x 10.6″ x 25.8″ (84cm x 27cm x 65.5cm)
Folding & Unfolding
Performance
If you wish to have a folding bike with nice style as well as very affordable selling price, this bike from Dahon might be the best option for you. This particular bike provides one speed and could be folded easily in less than 15 seconds. I just hate that I have to use the included strap to hold the 2 wheels together when folded. Most other Dahon bikes uses Snap Lok or Magnetix system which are much more convenient.
The Boardwalk has only one speed, so it is suitable for riding on paved roads only. It's a city bike for anyone who needs a basic and cheap folder for commuting, shopping and running errands in towns and cities. Don't ever think about using this bike to ride uphill or off road.
The frame is made mostly of steel, so it should be durable and tough enough. I'm just a little worried about the thin frame and not sure how it would manage to hold up. Anyway, I rode the bike for a month and everything still functioned properly.
Images
Test Ride
Conclusion
Pros
Very affordable price. This is almost the cheapest Dahon folding bike ever. You might save some money from your budget if you select this bike.
Good design. This folding cycle has a nice look with some Dahon technology included. Even after folding it, this bike appears great.
Convenient to use. You can use this cycle effortlessly. That perhaps may very well be folded and unfolded effortlessly and also could keep your time. This happens to be very helpful particularly if you are frequently traveling because this cycle wouldn't take in a lot of space. Bear in mind that it's pretty easy to travel with this folding bike in public transport.
Multifunction. You could employ this cycle for your journey to office or maybe for travelling to the closest market. It is also good for evening riding around the park.
Highly durable. The bike impresses the cyclists with its durability. Even if you choose to use the bike almost every day, it will serve you for a long period of time.
Safety. It's widely known that rider's safety has been always the number one priority for the manufacturers. You should know that Dahon's folding bikes have been designed with safety in mind. And of course, this model of Dahon's folding bikes is no exception. The bike comes with effective heavy duty alloy v breaks that contribute greatly to rider's safety.
Cons
The frame is made of steel, so it is heavier than many Dahon bikes.
It has only one speed. So if you need to ride uphill or arrive at one particular area quickly, you might need a lot more efforts.
Slow folding time because it requires a strap to tie wheels together.
The painting could easily get scratched due to folding mechanism.
Regular Price: $319.00
Click here to see updated price and read more customer reviews …