14 Comments
Dahon Vybe C7A Folding Bike Review - Will low price compromise Comfort and Quality?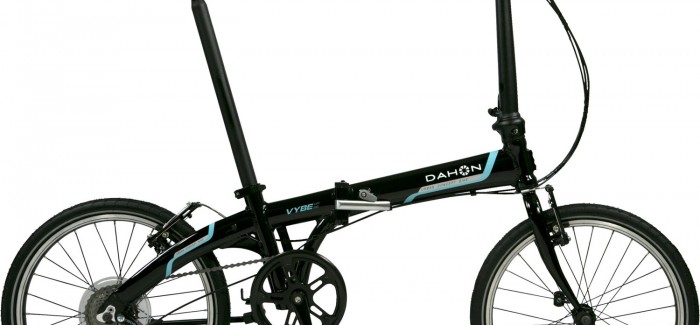 Convenient, great riding comfort packed in an inexpensive bike, that is how owners described Dahon Vybe C7A Obsidian Folding Bike. The Vybe C7A has long lasting components like its Radius handlepost and Fusion and V-Clamp technologies.
This bicycle folds in just 15 seconds. This bicycle has barrel adjuster at the derailleur end unlike other bicycles which uses barrel adjuster at the shifter end. Derailleur is bike mechanisms that moves the chain out and up to allow it to shift to different cogs.
It's important to point out that Dahon Vybe C7A Obsidian Folding Bike delivers multiple significant benefits to cyclists. This type of a folding bike comes with all the necessary features that the modern cyclists expect to see in a bicycle. The most significant advantage of this model is that the bike has 7 speeds. And of course, this great feature will contribute greatly to your riding experience.
Dahon Vybe C7A Obsidian Folding Bike makes a difference as a bike with a fun retro design.
You need to know that rider's maximum weight is 105 kg (230 lbs) and suggested rider height is about 142 – 193 cm. It's pretty clear that this type of a folding bike is the perfect option for heavy weight cyclists.
This is a good space saving solution for those who live in urban areas. It is not easy to find a good folding bike that has all the qualities needed to fill this need. This is a commuter bike that can fold so small that it can be easily stashed in a car or any form of common transportation like bus or train. This bike offers the perfect solution with a reasonable price to boot. This bicycle can accommodate most of the conditions encountered by city dwellers. Riders can incorporate optimal positions for comfort and speed.
Folding/Unfolding Video
Features and Specs
Color: Obsidian
Wheel size: 20 inches.
Folded size: 11.8″ × 31.5″ × 26″ (30 × 80 x 66 cm)
Product Weight: 25.26 lbs (11.46 kgs)
Frame: AA Series – Dalloy Aluminum with Dahon Visegrip Technology.
Patented Radius handlepost; forged aluminium made.
Fork: Integrated Fusion technology.
Brakes: alloy, V-brake, 110 mm
Patented Seat Clamp Anti Fulcrum technology.
Two color ergonomically designed grips.
Comfortable saddle.
Crankset: forged alloy 6061 arms, double chainguard, 46T
Oversized seatpost made of solid alloy.
Spokes: 14 GA Stainless steel
Pedals: folding
Kickstand: alloy, center mount
Compact, folds easily as fast less than 20 seconds.
Suggested height for riders: 4'8″ – 6'4″ (142 to 193 cm)
Maximum rider weight: 230 lbs. (105 kgs.)
Shipping weight: 35 lbs (16 kgs)
Box dimensions: 33″ x 12″ x 25.6″ (84cm x 31cm x 65cm)
Images
Test Riding Video
Pros
As it was mentioned earlier, the folding bike comes with 7 speeds and, of course, this is something that makes the bike more versatile.
It's fair to say that Dahon Vybe C7A Obsidian Folding Bike is a highly durable folding bike. The reality is the bike comes with long lasting parts. That means that if you choose to buy this type of a folding bike, then it will likely serve you for many years (even if you use it every day).
Strong handle post provides solid connection to frame and fork.
Lightweight aluminum frame but sturdy and solid.
Comfortable saddle since it does not hurt even when riding for the bicycle for a longer period of time.
Easy to fold and unfold. It will take you no more than 15 minutes to fold (unfold) a bike. That means that you'll not find it hard to take a bike on public transport.
Unisex design.
Offers options for various terrains.
Packed with advanced features
Rear and front fenders/mudguards are included
Cons
Rear derailleur needs adjusting since it slips. Assuming that the drive train is in perfect condition the bike needs some cable adjustment
Some issues on adjusting the hand brake. Avoid treating this bike like a BMX bike which is usually used for tricks.
Some minor issues on height adjustability.
Dahon Vybe C7A Obsidian Folding Bike is more expensive bike comparing to some of other models of Dahon's folding bikes.
Customer Reviews
And of course, like any buyer you'll probably decide to check customer reviews of the folding bike prior to making a purchase. Let's take a closer look at Dahon Vybe C7A Obsidian Folding Bike's customer reviews and try to figure out if cyclists are happy with the bike or not. Also, we'll be able to get an understanding of what people say about the bike.
It's worth noting that the vast majority of consumers are satisfied with the bike. If you pay a close attention to the bike's customer reviews, you'll see that most buyers like the bike. The statistics has shown that up to 55% of consumers have left 5 Star reviews about the folding bike, up to 19% of consumers have left 4 Star reviews about the folding bike and up to 10% of consumers have left 3 Star reviews about the folding bike. Totally, up to 84% of cyclists are satisfied with the bike.
Clearly, Dahon Vybe C7A Obsidian Folding Bike is an incredibly popular folding bike that has built a solid reputation among cyclists of all skill levels. Cyclists say that Dahon Vybe C7A Obsidian Folding Bike is a perfect bike available at affordable price. A lot of cyclists say that Dahon Vybe C7A Obsidian Folding Bike is a great folding bike for the price and they pay a close attention to the fact that the bike is worth its money.
Conclusion
For those who are asking if rim brake or disk brake is better, the answer lies on several factors like the weight of the person riding the bike, the riding style and even the climate during the time that he wishes to ride. These are the factors that riders should consider if they want to use the right brake. A person who lives in highly urbanized area needs good solid and trustworthy folding bike. This bicycle is reasonably priced and has excellent high quality parts. All that city dwellers might seek for a folding bike. For a safe and harmonious ride, just buy the Dahon Vybe C7A. It definitely offers more than its cost.
Check lowest price and read more customer reviews …