No Comments
Allen Sports Ultra X Superlight Carbon Folding Bike Review - Folding Bike 20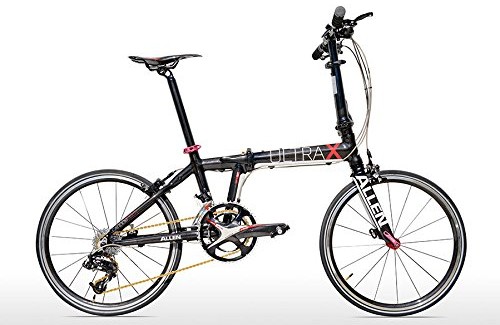 The Allen Sports Ultra X Superlight is appropriately named. It weighs in at 18.75 pounds and on top of being "super light" it looks pretty cool too. The bike comes with ultra-light frame that is made of carbon fiber and ultra-light pedals. The Allen Sports Ultra X Superlight is known for being one of the world's fastest and lightest folding bikes. It's important to know that the bicycle can offer a lot to cyclists of all experience levels.
On the other hand, the Allen Sports Ultra X Superlight is a very expensive model. If you are planning to buy the Allen Sports Ultra X Superlight bicycle, then you must be prepared to pay a few thousand dollars. Obviously, not every cyclist can afford to purchase such a folding bike. However, so many cyclists around the world are eager to know if this folding bicycle is worth buying or not? Now, it's time to get the answer to this very important and interesting question.
This folding bike review gives you a great opportunity to learn more about such a model as the Allen Sports Ultra X Superlight. First and foremost, we'll explain to you how the Allen Sports Ultra X Superlight makes a difference as a folding bike. After that, we'll walk you through the bike's features and specs. Then, we'll provide you with some insights into the Allen Sports Ultra X Superlight bike's performance. As a result, you'll be able to figure out what to expect from the bicycle. Finally, we'll outline the pros and cons of the Allen Sports Ultra X Superlight bike. And of course, this will help you make a conclusion whether the Allen Sports Ultra X Superlight is the perfect bike for you or not.
What Makes the Bike So Special
It's pretty easy to fold/unfold the Allen Sports Ultra X Superlight bike. Bear in mind that rider's comfort has been always number one priority for the Allen Sports. Obviously, the manufacturer of the bicycle has done everything possible to make the process of folding/unfolding so simple. It takes a cyclist several seconds only to fold/unfold a bike.
You should know that the Allen Sports Ultra X Superlight is a small-sized folding bike. However, the bike decreases in size dramatically when it's folded. So, you'll definitely find it easy to carry a bike if such a necessity arises. The Allen Sports Ultra X Superlight is a type of a folding bike that fits into the trunk of a car easily. Therefore, it wouldn't be difficult for you to travel by car with such a bicycle as the Allen Sports Ultra X Superlight. Plus, the bicycle can be easily taken on public transportation (bus, train, etc).
It's also important to note that the Allen Sports Ultra X Superlight is a feature rich folding bike. Keep in mind that the bicycle of this type has many great features. And of course, these features can contribute greatly to bike's performance and rider's security.
The bike impresses riders with its great performance. It's fair to say that the Allen Sports Ultra X Superlight is a high performance folding bike. With this type of a folding bike, you'll certainly find it easy to overcome different types of challenges on your way.
Features & Specs
Colors: Carbon
Folded size: 33.5 inch x  13.8 inch x 27.6 inch (85cm x 35cm x 70cm)
Weight: 18.75 lbs
Frame: Carbon Fiber
Forks: Carbon Fiber
Speeds: 20
Wheel Size: 451mm
Tires: 20″ x 1-1/8″
Valve on tires: Presta
Front Derailleur: Shimano
Back Derailleur: Sram X9 10 Speed
Rims: Alexrims CARBON
Crank Set: FSA Carbon
Shifters: Sram X9 Trigger
Front Brake: Tektro
Rear Brake: Tektro
Pedals: Non-Folding (Ultra-light)
Kickstand: No
Brake levers: Tektro
Handlebar Post: Carbon Adjustable (Folding)
Handlebar: Full Carbon
Saddle: Carbon
Seat post: Carbon
Fenders are not included
Recommended Rider Height range: 4'11" to 6'7″ (150cm to 200cm)
Max Rider Weight: 242 lbs (110 kgs)
Images
Performance
This bike is constructed with carbon fiber.  Every part that could be carbon is: frame, forks, crankset, rims, seat post, seat, handlebar post, and handlebars. Carbon fiber is what allows the Ultra X to be light but strong at the same time. It's also the reason this bike looks like a bike and not a spaceship. The Ultra X is more than 5 lbs lighter than the Allen Sports XWay reviewed in one of our previous posts and we thought that bike was light.
All of the pros that we liked about the XWay are all there in the Ultra X. The same 451mm wheels and the same Sram X9 10-speed rear derailleur and Shimano 2-speed front derailleur. 20 speeds provides me with more than enough capability on my commute. This is a smooth ride and can really handle the hills. The Ultra X is the top of the line when it comes to folding bikes. Some might say it goes beyond what a folding bike should be.
This bike along with the rest of the Allen Sports folding bikes folds up nice and neat in seconds, but also becomes cart-like. I can fold it down and still roll it wherever I need to go. This feature isn't something everyone is looking for, but I really enjoyed the design. Not all folding bikes are as easy to maneuver in their collapsed position.
Another thing I think worth noting is there isn't a kickstand. I know with a bike like this I won't ever want it out of reach, but that doesn't mean I don't need it to stand on its own every once in a while. Maybe adding a kickstand would have put this bike over the 19 pound mark, I don't know. But for the price I'd like a kickstand and while we are at it a bell and a basket!
You can definitely get where you need to go on a less expensive, less flashy bike. There is no lying about that. Seriously, be committed to your commute and cycling lifestyle before considering the Allen Sports Ultra X. Check out Allen Sports to get more info.
Conclusion
Pros
Great design
Lightweight carbon
Amazing performance
Cons
The Allen Sports Ultra X folding bicycle has the highest MSRP of $4,999. The price is a little bit outrageous. But this bike is a little bit outrageous and I haven't come across another one like it.