No Comments
Allen Sports Urban X 7-Speed Folding Bicycle Review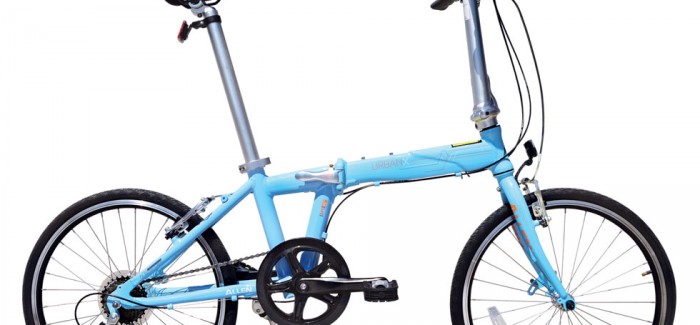 I've reviewed a couple of folding bikes from Allen Sports and all of them are my favorites so far. The XWay is even one of the best folding bikes we are recommending on the homepage. I've been testing the Allen Sports Urban X folding bicycle in the last month and we're going to see if this is another bike worth considering.
Unboxing Video
Features and Specs
Colors: Blue, Orange
Folded size: 33.5 inch x  13.8 inch x 27.6 inch (85cm x 35cm x 70cm)
Weight: 25.6 lbs (11.6 kgs)
Frame: 6061 Aluminum
Forks: 6061 Aluminum
Speeds: 7
Wheel Size: 451mm
Tires: 20″ x 1-3/8″
Valve on tires: Schrader
Rear Derailleur: Shimano RD-TZ40 7 Speed
Rims: GLEDE Alloy
Crank Set: Samox
Shifter: Shimano Tourney Revo Shifter
Front Brake: WinZip
Rear Brake: WinZip
Pedals: Folding
Kickstand: built-in
Brake levers: Alhonga
Handlebar Post: unadjustable Alloy one piece
Handlebar: Aluminum
Saddle: DDK 3166
Seat post: Aluminum
Fenders are not included
Recommended Rider Height range: 4'11" to 6'7″ (150cm to 200cm)
Max Rider Weight: 242 lbs (110 kgs)
Carton dimensions: 35.5″ x 26.5″ x 16″
Shipping weight: 30 lbs
Folding and Unfolding
Performance
The Allen Sports Urban X has almost all advantages that I saw on other bikes from the manufacturer. It can be folded quickly within 10 seconds, I love the folding mechanism with press linkage design because I can easily fold the bike with a few light presses. There is almost no force required when folding like on other folding bikes, and the frame is still very sturdy.
The Urban X features a similar design as the XWay. We can spot the thin 451MM wheels, Shimano rear derailleur, caliper brake, wheel lock and the same folded dimensions. So you might be wondering why the Urban X costs just half the price of the XWay.
There are a few compromises here. The Urban X is 1 lbs heavier than the XWay, it has just 7 speeds, the handlebar height is unadjustable, and some components are much cheaper. Although the 7-speed transmission is not as impressive, it is more than enough for most recreational riders. The bike can easily tackle moderate hills and my average speed was around 12mph including riding on the street.
However, the problem here is quality control of the bike. Actually I had to request a replacement because I couldn't adjust the seatpost of the first bike. The replacement is better but it is still difficult to move the seatpost, and you can see some scratches there. Another issue is that shifting gears are not really smooth, the shifter is quite stiff and the chain mis-shifts sometimes. Therefore, you should make sure to make adjustments before the first ride. Those problems might be caused by quality control or shipping, the box I received actually had a few damages and I'm not sure if it affected the bike.
There is another issue existing on other Allen Sports folding bikes, the Urban X still can't stand on its own when being folded. It can't be balanced because the heavy handlepost is folded out, so you'd better lean it against the wall or it will drop to the ground.
Images
Test Ride
Conclusion
Pros
Stylish and lightweight design
Sturdy frame
Easy to fold and unfold
Good performance of drivetrain
Cons
Can't stand in folded position
The seatpost doesn't fit well and get stuck sometimes
The handlepost makes some noises when riding
Shifting gears is not smooth and require some adjustments
Allen Sports has great support and I believe they will help you address those aforementioned issues. After some adjustments, the only major problem I have is the seatpost. I am a little disappointed but this is a review of this particularly bike, you might get a better unit and be satisfied with your purchase.
Regular Price: $799
Check price and read more customer reviews …