No Comments
STRiDA LT Folding Bicycle Review - Far From Perfection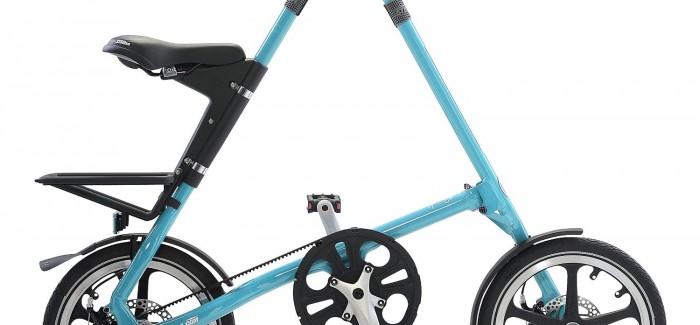 A few weeks ago, I had an opportunity to review the STRiDA SX, the first A-shaped folding bike I had ever used. I had good impressions with that bike and found it one of the best portable solutions. The STRiDA LT is even smaller and cheaper. So what compromises will you have to make when using this bike? Keep reading to find out.
Unboxing & Assembly Video
Features & Specs
Colors: Turquoise, Black, Red, White
Weight: 22 lbs (10 kg)
Folded Dimensions: 45″ x 20″ x 9″ (114cm x 51cm x 23cm)
Frame: 7000 series aluminum
Speeds: single speed
Drive Train: STRIDA special belt drive that is clean, grease free and can last up to 50,000 miles
Wheels: 16″ plastic wheel
Brakes: disc brakes
Rear Carrier: plastic
Fenders are included
Unadjustable seat mounting
Can be stored vertically or horizontally
Can be rolled when folded
Folding pedals
Belt is included
Bottom bracket: Welded
Weight Limit: 100 kgs / 220lbs
Height Limit: 4'9″ – 6'4″ (145cm – 193cm)
Designed in the UK
Made in Taiwan
Folding & Unfolding
Performance
The STRiDA LT is exactly the cheaper version of the STRiDA SX. It has the same design but the wheels are even smaller at 16 inches and I also found that some components are not as high-quality as on the higher-end bike.
The rear rack is made of plastic instead of metal, this makes the bike unsturdy because STRiDA bikes use rear rack as a stand when being folded. Besides, you can't find a kickstand on the LT, I can understand that STRiDA wants to reduce the costs but it is so inconvenient using a bike without a kickstand. Of course I can lean the bike against any wall but I really think you should buy a kickstand if you have the bike.
Another issue is the unadjustable seat mounting, so it might take a few attempts to set up the correct height. If you share the bike with another member in your family, you'd better buy the adjustable seat mounting because it will save you a lot of time. Similar to the STRiDA SX, you should have some tools to assembly the bike. Actually you just need to attach the seat mounting onto the body but it could take you about 10 minutes. You can watch the video on top to see the assembly process.
On the other hand, there are a lot of advantages of the STRiDA LT. The bike is very lightweight at 22 lbs (4 lbs lighter than the STRiDA SX), it has the same minimal design with almost no visible cables, easy to ride with single speed, and the aluminum frame still looks very sturdy. You might be wondering about performance of the wheels and drivetrain system. Of course the bigger wheels are much more comfortable when you have to deal with bumps and holes on the road. However, I'm quite surprised that I can ride pretty fast on the tiny wheels. The drivetrain performs pretty well and I don't have to apply significant force on the pedals. In general, the riding experience is good enough on paved roads and I can ride a couple of miles without any problem.
Images
Test Ride
Conclusion
Pros
Minimal design
Most affordable STRiDA bike
Sturdy frame
Requires less maintenance
Cons
No kickstand
Some plastic and cheap components
Some assembly is required to start riding
Small wheels look weird and they can't deliver a smooth riding experience
Folded size is not really small
This is an acceptable bike but I'd recommend the STRiDA SX if you really love the triangle shaped folding bike. It costs extra $100-200 but the improvements are totally worth the money.
Regular Price: $799
Check price and read more customer reviews…