No Comments
Sueh Q6 - 7 Speed Folding Bike Review - Folding Bike 20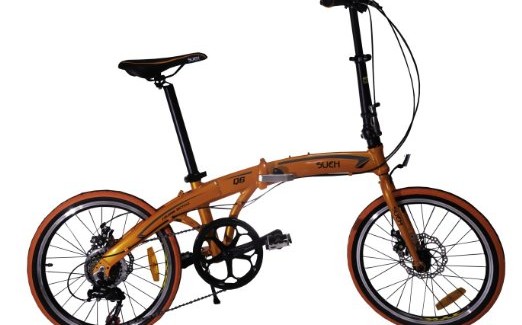 The Sueh Q6 is a basic folding bike. Ideal for recreational use during travel or around town. This 7 speed bike can handle decent hills but is not recommended for commuting.
Specifications
Colors: Orange, Black, White
Frame: Aluminum
Fork: Aluminum
Stem: Steel (adjustable height) SUEH
Handlebar: Aluminum 54cm
Seapost: 40mm x 510mm SUEH
Shifter: 7 speed SUEH
Brake Levers:SUEH
Brakes: Hui Hong double disk system for SUEH
Derailleur: Speed system SHIMANO (7 speed)
Crankset: Steel SUEH
Cassette: Shimano 7 speed
Chain: WFC for SUEH
Rims: Aluminum SUEH 28 holes
Hubs: Aluminum SUEH
Spokes: Stainless Steel SUEH
Tires: Zhao Yang 20″
Tubes: Zhao Yang
Pedals: Aluminum and Plastic (none foldable)
Weight: Approx. 12.25kg or 27 lbs
Bike Size: 152cm(L) x 100/123cm(H) or 59.84″(L) x 39.37″/48.42″(H)
Folding Size: 82cm(L) x 58.4cm (H) x 33cm (D) or 32.28″(L) x 23″(H) x 13(D)
Folding Time: Approx. 10 to 15 Seconds
Warranty: 6 months
Images
Performance
The Sueh Q6 is a slight improvement from the Q1. The main difference being the double disk breaks and lighter frame (27 lbs). I didn't notice any shifting problems on this bike which lead to a smoother ride than my experience with the Q1. It could be the difference in the chain since both bikes are Shimano 7 speeds.
With the slight improvement noticed in the Q6, this bike still features some of my main concerns. The folded dimensions are still too large and the pedals do not fold. I cannot recommend this bike for commuting, but it could be a decent choice for recreational use.
Conclusion
Pros
Reasonable Weight – 27 lbs
7 speeds
Cons
Non-folding Pedals
Folding Size is still too large
Poor Customer Service
Warranty – Only 6 Months
The Sueh Q6 is recommended for recreational use. Read more reviews.