No Comments
AVANTI 20" Lightweight Aluminum Folding Bike Review - Folding Bike 20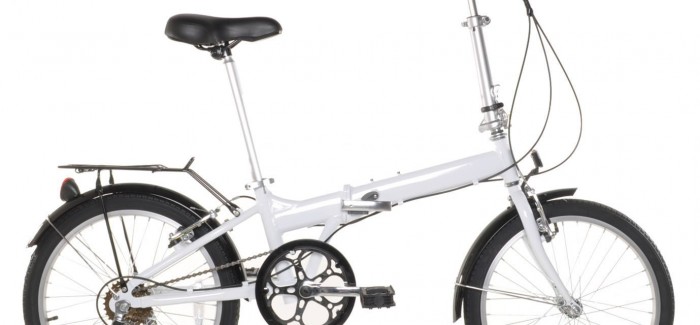 This Vilano Avanti 20″ folding bike is a 6 speed aluminum bike that comes equipped with a rear rack and fenders. It is promoted as a commuter bike – ready to go. Let's find out more!
Specifications
Colors: Red, Black, White
Frame: 20 Aluminum Folding – with safety latch system
Stem: Foldable height adjustable
Shifters: Twist Grip 6 Speed
Rear Derailleur: Sunrun 6-Speed
Handlebar: Aluminum
Seat Post: Aluminum
Crank: 53T w/ Chain guard
Brake: Alloy V Brake
Rims: 20″ Alloy Double Wall
Weighs: 29.5 lbs
Accessories: Rack, Front/Rear Fenders
Images
Performance
The Avanti refers to itself as "Lightweight", but that is a relative term. Aluminum is lighter than steel but this bike weighs 29.5 pounds. I would say that is on the heavy end for a commuter but normal for this price range. It does come with the rack and fenders installed, so that could account for a couple pounds. Compared to the other Vilano 6 speed folders the Avanti finds itself in the middle. The Apex is 32 pounds and the Tempest is 27 pounds.
The Avanti comes with 20″ wheels, folding pedals, and 6 speeds. It folds up pretty easily, but does not really stay folded. I would mostly use this feature for storage purposes. I didn't have any trouble shifting gears but it wasn't as smooth as it could have been. This bike is not stocked with Shimano shifters and derailleurs like many other folding bikes. I think that is definitely worth noting especially if you are comparing this bike to another one.
Overall the experience matched the price-range expectations. I was able to handle a few moderate inclines and the ride was pretty smooth. I didn't try this out on anything but paved roads and wouldn't recommend it for anything else.
Conclusion
Pros
Easy to fold and unfold
Rack and fenders come installed
Cons
Bulky and Heavy
Not a Shimano shifter
The list price for the Avanti is $381.30, but right now it is on sale for $199.00 on Amazon.