No Comments
Best Smartphone Holders for your Bicycle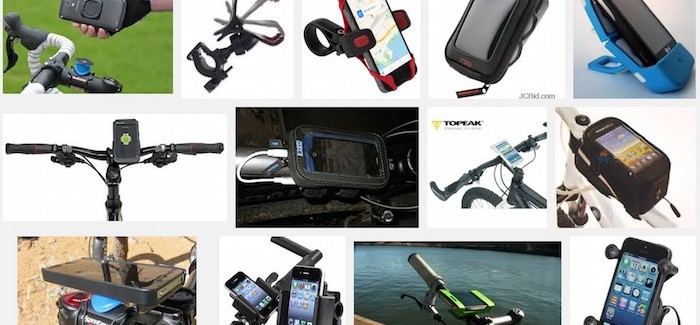 Today, we can hardly imagine our life without smartphones. These devices have become an integral part of our everyday activities. No matter what you do, you constantly need your smartphone to be with you. For some people it is absolutely indispensable to have access to their smartphones all the time. These gadgets provide us with a great opportunity to keep in touch with people we love and care about.
Cycling is an extremely popular pastime activity. When you are riding a bicycle, you might want to bring your smartphone anywhere you go. You absolutely don't want to miss important calls but it is not the only benefit. Either iPhone or Android phones will provide useful functionalities like music player, Google Maps, GPS tracker and you can install an app to keep track of your routes, calories, exercising time and miles traveled. It may be inconvenient and in some cases even dangerous to travel long distances without your smartphone. Your gadget can keep your safe on the road and help you in case of emergency.
Your smartphone is the only necessary gadget in this case. If cycling is a part of your daily routine, you should definitely think about getting a smartphone holder for your bike. Here are the best smartphone holders for your folding bicycles.
1. Koomus BikeGo 2 Bike Mount
People usually think that a high-quality product has to be expensive. But it's not always like that. Koomus BikeGo 2 Bike Mount proves that every rule has an exception. In fact, I didn't expect much from this product because it is cheaper than many other bike mounts. But when I started using it, I realized that this holder was performing pretty well. So, I came up with the conclusion that this product was really worth buying. If you are not ready to purchase an expensive smartphone holder, Koomus BikeGo 2 Bike Mount is exactly what you need.
However, this is actually a very convenient smartphone holder for folding bikes. In fact, you do not need to have any special skills to be able to attach the holder to your bike. I managed to understand how it had to be done quickly. It took me a few seconds. It would be enough to watch the video and follow the instruction. I love that there is no tool required to attach the mount to handlebar of my bike. Basically, I just need to install the anti-skid pad, then install the size-adjustment rubber, use force to secure the Koomus mount on top and finally insert your phone to the holder. There is also a safety pin to prevent your phone from falling, so I guess it is pretty safe. Thus, you will not have to worry about your smartphone when riding your bike.
This holder is compatible with all types of smartphones available on the market today. It is safer and stronger in comparison with its predecessor. Riding a bike will turn into a fascinating experience with this smartphone holder. Obviously, the holder is designed with a cyclist in mind. I use this mount more than the others and it is quite awesome. The only problem is probably the arms are a little stiff to pull apart. The holder is stretchable from 2.16″ to 3.42″, so make sure to check your phone size before buying. You can buy it on Amazon for $16.
2. Aduro U-GRIP PLUS Universal Bike Mount
This universal bike mount is compatible with most smartphones including Samsung Galaxy, all types of iPhones and iPhone X. Aduro U-Grip Plus comes with highly durable silicone bands. So, you can be sure that your gadget will always stay safe no matter how difficult your route may be. With 360° of rotation, the Aduro provides great viewing angles at all positions. This holder is very easy to install. However, you may need to use some tools to attach the holder properly.
The Aduro mount can be your choice if you are looking for a better build and cooler design. You can easily pull apart the spring-loaded arms and then secure your phone with rubber band. The mount can fit handlebar with up to 1.5″ diameter and the grip can phones with 5.5-inch screen or smaller. The Aduro universal bike mount is available on Amazon for around $20.
Do you remember the last time you left home without your smartphone? I don't think you will be able to answer this question because we usually take our smartphones everywhere. And cycling is not an exception. We definitely need our gadgets while riding a bike. So, getting a high-quality smartphone holder is an important step for every cyclist. In fact, it's up to you to decide which type of holder to buy. Just remember that your smartphone holder has to be universal, versatile, waterproof, sturdy and secure to provide you with maximum comfort and satisfaction during your ride.