No Comments
Allen Sports Urban 1 Speed Folding Bike - Folding Bike 20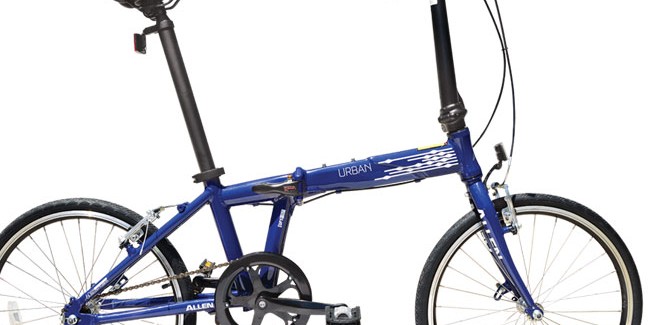 The Allen Sports Urban is a single speed bike. It can handle a little more than the Allen Sports Downtown, but is still meant for casual or recreational use on flat roads.
Specifications
Colors: Blue, Burgandy
Speed: 1
Weight: 26.1 lbs (11.8 kg)
Folded Dimensions: 13.8 x 35.4 x 27.6 inches (35cm x 90cm x 70cm)
Tires: 20″ x 1-3/8″
Valve on tire: Shraeder
Wheel Size: 451mm
Frame: 6061 Aluminum
Forks: 6061 Aluminum
Handlebar: Aluminum
Handlebar Post: unadjustable Alloy one piece
Saddle: DDK 3166
Rims: GLEDE Alloy
Crank Set: Samox
Front Brake: WinZip
Rear Brake: WinZip
Seat post: Hi-ten Steel
Pedals: Folding
Maximum rider weight: 242 lbs
Suggested rider height: 4'9″ (145cm) to 6'6″ (198cm)
Shipping weight: 33.55 lbs
Box dimensions: 33.5 x 14 x 31.5 inches
Images
Performance
The Allen Sports Urban winds up pretty much in the middle between the Allen Sports Urban X and the Allen Sports Downtown in price as well as components. It is a single speed bike like the Downtown but with some of the upgrades found on the Urban X. The idea behind this bike is still a low mileage, recreational performance with just a little extra comfort than the baseline model.
Like all Allen Sports folding bikes, I found this bike collapses easily with little effort required. The folding and locking mechanisms are patented and hard to compete with. I can roll it while folded and despite its easier transition between folded and unfolded the ride still feels solid. The Urban incorporates the 451mm wheels that are found on Allen Sports' top bikes and the same tires as the Xway which contributes to its smooth ride. It also isn't a multi-speed bike like the Urban X and so conveniently isn't going to have the gear issues that we found there.
While this bike is definitely a step up from the Downtown. I'm not sure about the price point for a single speed bike. The regular MSRP value of the Urban is listed as $649.00. Fortunately you can find this bike for $340.56 right now on Amazon (and Prime eligible). It think at that lower price it competes more easily with other single speed bikes.
Conclusion
Pros
Easy to Fold and Unfold
Rolls while Folded
Sturdy Frame
Folding Pedals
Cons
Expensive for a Single Speed (regular price)