No Comments
Dahon Vigor P9 Review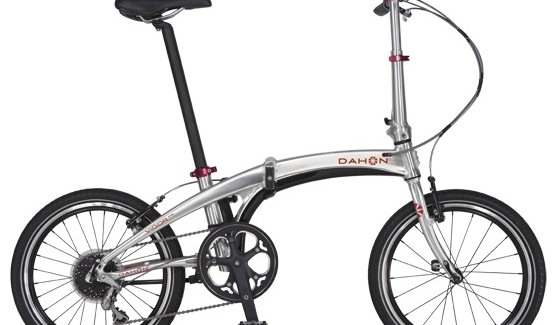 The Dahon Vigor P9 Folding Bike 20-Inch Wheels with a 9-Speed Drivetrain is designed to assemble, ride and fold with ease. The Dahon Vigor P9 performs excellently for both on-road and off-road rides.
The best part of having this bike is that you can easily fit it in the trunk of your car or carry it with you in a bus, subway or train. With the Vigor P9, navigating through crowded urban streets or riding through a cinder path will be quick and easy. Once through, you can fold the bike into a size small enough to be lifted, carried around or even stored in a small compartment.
Features and Specifications
Folded Size: 13.39″ x 31.89″ x 25.98″ (34 x 81 x 66 cm)

Weight: 25.7 lbs (11.7 kg)

Tires: The Dahon Vigor P9 features a set of 20″ Schwalbe Marathon Supreme tires
Frame: Hydroformed Dalloy Aluminum frame designed with Lattice Hinge and V-Clamp Technology.
Hubs: The front hub is made of Dahon custom 74mm compact alloy with 20 holes while the rear is a KT-G5ER BK 130mm x 140mm x28H 8/9 w/Dahon Logo.
Saddle: Dahon ergo-comfort saddle that is ideal for both smooth and bumpy rides.
Grips and brakes: It comes with a 6061 Double Butted Aluminum Flat Bar, 580 mm wide with 9 Degree Ergo Sweep and Winzip smooth and powerful 110mm V-Brakes
Fork: Responsive and lightweight dalloy, x/Integrated Crown, Aluminum
Handlepost: Fusion technology, Forged Alloy Radius Telescope
Spokes: 14 grams of Stainless Steel
Rims: 20 inches light weighted Aluminum Double Wall
Shifters: DAHON Neos Twist Shifter
Images
Conclusion
Pros:
Economical; does not require electricity to run. Bikers can easily keep it and use whenever they want.
Rider comfort on an ergonomic saddle.
Quick assembly and folding. Manual is also available for assistance.
Comfortable grips and brakes. You will find it a convenient and easy-to-handle utility that will always transform itself according to your requirements.
Lightweight aluminum frame makes it easy to carry around. Just because of this reason, its handling is much easier and riders are capable of landing safe after high jumps.
Folding capability makes it fit inside small compartments, garages, cars and trains.
Cons:
Pricey: Not many riders can afford nearly $1000 for this bike.
Not ideal for off-road riding.
Not very fast for speed lovers since it does not have stronger suspension and braking system.
The Dahon Vigor P9 Folding Bike is easy to use and convenient. It rides well, fits in small spaces and is light enough to be carried around. Though it can be ridden on both urban and mountain bike settings, users will find it ideal for on-road riding. For less than $800 this is a perfect combination of speed, comfort, durability, performance and cost.
See updated price and read more customer reviews here