No Comments
STRiDA SX Folding Bicycle Review - High-Quality Bike with Limited Usage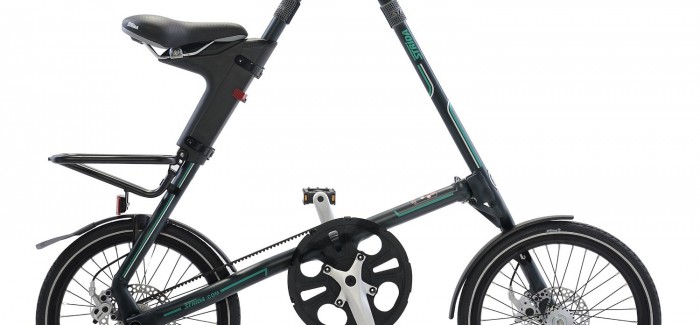 Are you a big fan of folding bikes that come with a triangular frame and a short wheelbase? If so, you should definitely pay a close attention to the STRiDA SX folding bike. Today, we are going to review the STRiDA SX folding bike and describe its key features as well as pros and cons in detail.
Once you take a look at the bikes of STRiDA SX series, you'll quickly find out that bicycles of this type have been designed in an unusual style. You are likely to be highly impressed with the bike's great design.
It's crucial for you to know that there are five different styles of the STRiDA folding bikes – 5.0 folding bicycle, C1 carbon fiber folding bicycle, Evo folding bicycle, Lt folding bicycle as well as Sx folding bicycle. Another important thing that you need to be aware of the STRiDA folding bikes is that the bicycles of this series are available in six different colors – silver, matte black, blue, neon green, red, turquoise and white. All of this means that the STRiDA collection gives you a great opportunity to pick the bike that meets your design preferences in the best possible way. Keep in mind that the STRiDA folding bikes have either single speed transmission (STRiDA LT, STRiDA 5.0 as well as STRiDA C1 Carbon Fiber) or three speed transmission (STRiDA SX as well as STRiDA Evo).
Today, we would like to review the STRiDA SX folding bike. In this review, you'll be able to find the Unboxing and Assembly video, bike's features and specifications, folding and unfolding video as well as the information on the bike's performance, pros and cons. Hopefully, this type of review will help you make your own conclusions about the bike.
The STRiDA SX is exactly what I imagined of a folding bike in the first time I heard about the concept. It looks so portable with a weird A-shaped design and many people love it, especially in the UK. Now we have the chance to test the bike in the U.S., let's see if it could keep up with other folding bike manufacturers here.
It's worth noting that STRiDA SX is a feature rich folding bike that has everything that's needed for a comfortable ride. STRiDA SX has aluminum breaks and disc brakes. You need to know that the bike comes with a special belt that makes it possible for you to drive over 50,000 miles. The bicycle has three speed transition. And of course, the STRiDA SX folding bike is not a good option for people who want to travel over long distances. The reality is the bike's design allows you to travel short distances only.
Unboxing and Assembly Video
Specifications and Features
Weight: 26.4 lbs (12 kg)
Folded Size: 45.2″ x 20″ x 9″ (115cm x 51cm x 23cm)
Speeds: single speed
Frame: 7000 series aluminum frame and fork
Wheels: 18-inch aluminum wheels and reflective Kenda tires
Drivetrain: STRIDA special belt drive that is grease free and can last up to 50,000 miles of usage, no oily chain or gears.
Brakes/Cockpit: Disc Brakes and aluminum parts
Aluminum Rear Carrier can hold up to 13 lbs (6 kg)
Adjustable seat mounting
Fenders are included
Can be stored vertically or horizontally
Can be rolled when folded
Folding pedals
Belt is included
Bottom bracket: Welded
Recommended Rider Weight: 100 kgs / 220lbs
Suggested Rider Height: 4'9″ – 6'4″ (145cm – 193cm)
Folding & Unfolding
Performance
There is a lot of things to love about the Strida SX. The bike can gather a lot of attention because of its distinctive triangular frame. In the last 4 weeks riding the bike, I've seen many people have curious stares at the bike. A middle-aged man even stopped me to take pictures of the bike and asked me where he could buy one. So, you should be prepared for this. I get the Matte Black version and it looks stunning.
A great advantage of the Strida is that it can be folded and unfolded very fast. I can easily complete the process in about 10 seconds. Just push the safety lever to release the front wheel and bottom tube, secure the front wheel together with the rear wheel magnetically, and finally fold the bottom tube back. You can also fold the handlebar but it is not really necessary. I actually just fold the handlebar when I need to store the bike upright because I will be able to tie the included strings to the brakes and keep the bike standing still then. In this case, the rear rack can act as a stand when folded or you can use it to prop the bike vertically against the wall.
I also love that the bike is so easy to roll around when folded. It is well balanced, so I don't have any problem rolling it by pushing the handlebar.
Unfortunately, this is absolutely not an ultimate solution. Firstly, the bike is not ready to ride out of the box. It took me 20 minutes to assemble the bike, most of the time are spent on installing the seat mounting. You should watch the video above if this is the first time you are using a Strida. The seat is adjustable and Strida said it can fit people from 4'9″ (1.45m) to 6'4″ (1.93m) but I won't recommend this bike to riders that are taller than 5'9″ (1.75m). It will be so comfortable because you will sit pretty close to the handlebar and your knees can easily touch it.
Although the riding experience is better than the Brompton S1E, there are still obvious limitations of small wheels and single speed. I can ride about 5-6 miles on the bike and I feel uncomfortable at the end of each ride. This is suitable for flat roads only but you'd better avoid bumps on the road. I was also unable to ride fast and far with the bike, my highest average speed was around 12 mph.
Besides, the seatpost is connected to the handlepost via a ball joint only, therefore, it is more difficult to steer and keep the bike balanced. You will see the bike wobble significantly, especially in the first rides. Strida recommended no stunt riding, no ice riding, no wheelies, no loose clothing, not to rolling mount and not to stand on pedals. I tried standing on pedals for a few seconds and almost fell to the ground.
Another issue I had is that I couldn't adjust the seat height. When you assemble the bike, you will need to choose one of the two holes on the seat post to put seat pin into the best position. You can choose the lower hole if you are shorter than 5'9″ or the higher hold if you are taller. Somehow I couldn't screw the pin all the way in and that's the reason why I couldn't adjust the seat mounting. I used the included 2mm Allen key to screw the pin but it just couldn't go in. The high hole works fine for me.
Although the Strida SX features small 18-inch wheels, it is quite heavy and even bigger than some 20-inch wheels. Another concern is the crankset is made of plastic, and it uses a Kevlar belt drive instead of chain, so I doubt about its durability.
Images
Test Ride
Conclusion
Pros
Minimal design with almost no visible cables
Easy to roll when folded
Sturdy frame
Fast folding and unfolding
Requires less maintenance
Cons
Uncomfortable for long rides
The saddle is too close to handlebar
Regular Price: $999
According to customer reviews, the vast majority of cyclists (up to 91%) are happy with the STRiDA SX folding bike. The statistics shows that consumers have left 67% of 5 Star reviews, 9% of 4 Star reviews and 15% of 3 Star reviews. If you analyze customer reviews carefully, you'll quickly find that many cyclists say that STRiDA SX is a well-designed, very smart, comfortable, portable and functional folding bike. That means that you'll definitely find it fun to ride this folding bike. Some customers point out that STRiDA SX is a great bike for commuting. There is no doubt that after you purchase the STRiDA SX folding bike, you'll hardly be able to imagine your life without it.
Check price and read more customer reviews
The Strida SX is not the folding bike for everyone. I will recommend it if you are a mixed-commuter and just need to ride a short distance from your home to the public transportation. Otherwise, you should stick with 20-inch wheel folding bikes.