No Comments
InStep Sync Single Bicycle Trailer Review - Safe Way to Carry Your Kid?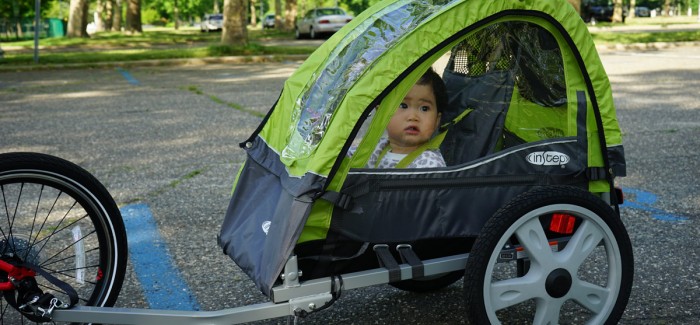 We all know that parenting changes our lives. When a child is born, the life of new parents turns upside down. You are no longer able to do things that you like or want, at least for a while. If you are a bike enthusiast, it would be really difficult for you to refuse from this activity. The lack of time and energy can make you forget about cycling. Sometimes it's almost impossible to find enough time for riding your bike just because you need to stay with your baby all the time.
Traveling is very exciting. It provides people with new emotions, feelings and unforgettable moments. Traveling with your child can be rather challenging, but yet rewarding. If your bike is an integral part of your everyday life and you cannot spend a single day without riding it, you should really think about taking your kid with you. Many people think that they can't carry their kids with a folding bike because the bikes often use smaller wheels. That's totally a misconception.
We are going to tell you about safe and easy way to carry your kid on a bike. You have probably heard about child bike seats that cyclists prefer to use. However, such seats have some disadvantages. When you put your kid into a bike seat, he/she may become more exposed to wind chill. If you fall accidentally, your kid will probably become your airbag. Using saddles that are usually mounted into the top tube of your bike are not suitable for long journeys. Your kid is likely to get tired very quickly.
Cycling can be pleasant both for parents and kids. If you really want your kid to go bike riding with you, think about getting a baby trailer. Bike trailers provide extra space for kids in comparison with child bike seats. Plus, bike trailers come with a cover that will successfully protect your child from bad weather conditions. That means that raining or snowing will no longer stop you from riding a bike with your child.
If you are using a bike with 20-inch wheels or larger, you absolutely can carry your baby with a Schwinn child carrier or a bike trailer. I'm using the InStep Sync Single Bicycle Trailer, let's see if this could be suitable for you.
Unboxing and Assembly Video
Product Specifications
16-inch pneumatic tires
Molded rims
Folding frame design
Folded dimensions: 30″ x 20″ x 6″
Quick release wheel
A bug screen and weather shield are included
Safety flag is included
Versatile bicycle coupler
Maximum Child Weight: 40 lbs
Weight: 22.93 lbs
How to Install on a Folding Bike
Performance
What I love about this InStep bike trailer is that it is very portable and you don't have to sacrifice anything when you use it on a folding bike. Both of the folding bike and trailer can be folded down for easy storage and transportation. That means I can store both in my car trunk or check them as baggage on your flight. This is really amazing, isn't it? Cycling with your child has never been so simple and fascinating at the same time.
Unlike child carriers which require some tools and time-consuming processes to attach to a bike, it often takes me just a couple of minutes to install the bike trailer. It is even easier if you are using folding bikes with quick-release wheels, like the Dahon Mu P8 as demonstrated in the videos. The trailer has been designed with users in mind. It will not take you too much time to unbox the trailer. Then you will be able to attach the trailer to your bike within several minutes (even if you have never done this before).
As the wheels of folding bikes are smaller than regular bikes, you might be wondering if the trailer is safe for your beloved baby. I tested it myself and don't see any scenario it could fail. The frame is very sturdy, your baby sits steadily wearing seat belt, and there are bug screen and weather shield on the front canopy as well. Basically your kid is well-protected within the trailer. I often open the canopy, so my baby can see everything clearer and enjoy the environment around. I really think all recreational cyclists should spend some time with their kids and this is must-have accessory.
Imagine only how happy your kid is going to be when you get InStep Sync Single Bicycle
Trailer. Your child will become a part of your cycling, experience new feelings and memorable moments. Traveling in a bike trailer will undoubtedly become a fascinating journey for your child. As you can see, there is no need to give up bike riding when you become a parent. The only thing that you need to remember is that choosing kid-friendly routes has to be your top priority. Try to find interesting places for cycling to keep your child entertained. Keep in mind that when your kids participate in your favorite leisure activity, they become emotionally closer to you. As a result, you will be able to build an unbreakable bond with your child. With InStep Sync Single Bicycle Trailer you will see that cycling can be great even for a young child.
Test Ride
Images
Conclusion
Overall, I think the InStep Sync Bicycle Trailer is a great choice if you want to spend some time with your children. In case you have more kids, you can get bigger trailers like the InSTEP Take 2 Double.
Regular Price: $130