No Comments
Montague SwissBike X50 Folding Bike Review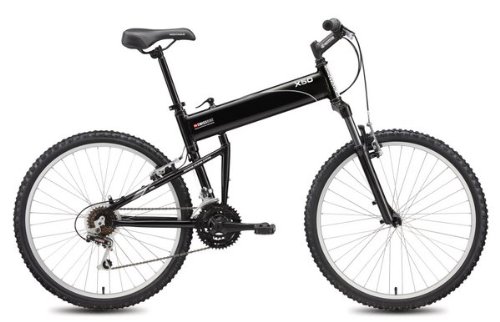 Do you need a resilient foldable cycle that won't hurt your wallet? The Montague Swiss folding bike X50 is really a nice mountain bike challenging rough roads as well as dirt trails. If you want to reach work in time, or even if you simply just seeking to get some miles in the evening fun ride, the Montague SwissBike X50 can be your best option.
What You Can Expect from Montague SwissBike X50 Folding Bike
What is great about Montague SwissBike X50 is that it's a very beautiful and solid folding bike. The bike impresses with its great design. It's fair to say that Montague SwissBike X50 folding bike has been designed in an unusual way.
On the other hand, Montague SwissBike X50 folding bike is best known for its patented folding CLIX System. With this type of folding system you'll never find it hard to fold/unfold your bicycle. In reality, the process of folding/unfolding a bike takes no longer than 20 seconds. It's also important to note that you don't need to use any tools to fold/unfold Montague SwissBike X50 bike.
Do you often forget to retighten your bicycle after unfolding? Actually, this type of problem can be easily solved if you have Montague SwissBike X50 folding bike. The reality is the bicycle comes with such a great feature as a secondary lock. This type of a lock will not allow the bike's frame to fold when you forget to tighten your bicycle after unfolding.
Keep in mind that the bike itself is very compact. So, you'll find it easy to travel with Montague SwissBike X50. The bike will fit any car. Also, the bicycle can be easily taken on train, bus or on any other type of public transport. All that you need to do is to fold your bike. That means that you'll be able to decrease the bike in size dramatically when the bicycle is folded (the bike's folded size: 36″ x 28″ x 12″). Plus, the bike comes with a flip of the CLIX quick release lever on the top tube. Montague SwissBike X50 bike's patented CLIX System is something that makes the bicycle very practical. Many experts say that the bike is very convenient. So, you'll probably love the bike after you start riding it.
It's worth noting that the bike has 18 speeds. And of course, this has a profound impact on the bike's performance. Montague SwissBike X50 folding bike performs very well on bike baths, mountain bike trails and roads. With such a bicycle as Montague SwissBike X50 you'll be able to overcome different types of challenges on your way easily.
We all know how it's important for a cyclist to keep his/her body properly hydrated during bike trips. That's why cyclists shouldn't forget about a bottle of water when they are planning their bike trips. Obviously, it can be inconvenient for a cyclist to carry a bottle of water in a travel backpack. It's important for you to know that rider's comfort has been the number one priority for the manufacturers of Montague SwissBike X50 folding bike. The bike has been designed to make the life of a cyclist easy. A water bottle holder can be installed on Montague SwissBike X50 folding easily and quickly. As a result, you'll be able to mount a bottle of water into Montague SwissBike X50 folding bicycle. And of course, it's a big advantage for cyclists who are planning to travel long distance with Montague SwissBike X50 folding bike. Without a doubt, a water bottle holder will make long distance bike traveling easier.
Your Montague SwissBike X50 comes with a body good enough for riding on rough roads; nevertheless it folds very easily within 20 seconds. Using the front suspension and eighteen speeds, this folding cycle is definitely an affordable way of reaching your desired destination, it doesn't matter what sort of land is within on your path.
With front suspension along with ground four tires, the X50 produces the right mild trail cycle or solid commuter. Such as many Montagues, the SwissBike X50 is created to fit anywhere. Ingenious integration with the patented CLIX Process enables the X50 to get folded inside 20 mare seconds without any tool. A press on the CLIX quick relieve lever at the top tubing makes the cycle folds over in a small size. In case after unfolding you forget to tighten the QR, another locking mechanism helps to prevent the body from folding. The bike goes from car trunk to road in a few seconds.
This X50 employs common 26″ hill bicycle wheels and parts which can be serviced in any bicycle shop. You'll be able to carry it without any bicycle rack. Whether it's a business excursion, an outdoor camping excursion or just a weekend ride for relaxation, store the bicycle within your car and still have the flexibility of a cycle ride wherever you want. This bike can even be folded away neatly in a travel case and can be stored straight in a closet or perhaps under a bed.
Having Shimano rear and front derailleurs, Tektro brakes, and Suntour suspension, your Swissbike X50 offers parts from the industry's prime makers. Intelligent integration on the trademarked CLIX Process allows the bike to be folded within 20 seconds. Your SwissBike X50 frame was created close to some sort of trademarked folding program. That design removes the need to split your frame to be able to fold your bicycle. Not simply does this process produce folding easier nonetheless it makes this kind of bicycle your most favored folding bicycle available in the market. This Folding Integrated Technology (F.I.T.) is created on frame structure ideas suitable for serious full suspension mountain cycles.
Incredible CLIX System which allows the bike to be folded within 20 seconds.
Provides all terrain tires and also front suspension.
Best rugged commuter or light trail bike.
Can be found in 16″, 18″, and 20″ frame sizes.
Folds to a compact size of 36″ x 28″ x 12″.
Wheel size: 26″.
Weight: 32 lbs.
Color: Gloss black.
Speeds: 18.
Custom drawn 7005 Series Aluminum frame.
Images
Pros
Folds very easily and folding size is very compact.
Best mountain bike with folding option.
The frame is very sturdy.
Lightweight for a bike with 26-inch wheels.
Cons
Needs some reconfiguration after buying
The brake needs some tightening up.
Does not include a kickstand.
Regular Price: $649.00
Check price and read more customer reviews …