One Comment
Allen Sports Downtown Aluminum 1-Speed Folding Bike Review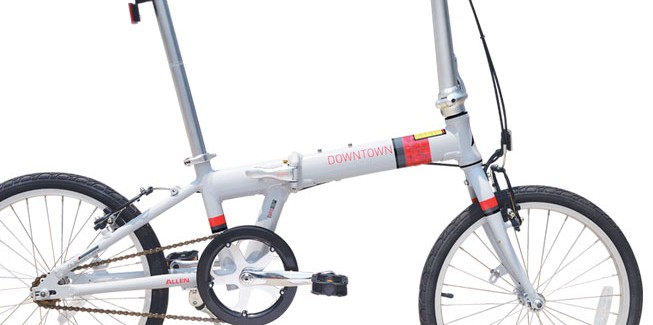 Honestly I didn't know much about Allen Sports before trying the new bike. All I know is that this is a family owned company well known for its high quality rear mounted bicycle carriers including the best-selling Allen Sports Deluxe 2-Bike Trunk Mount Rack. I am also using a product of Allen Sports, which is the Allen Sports 5W light set and really it is worth every penny.
It looks like Allen Sports just started expanding its business in 2014 when I saw a new wave of folding bikes introduced on Amazon. Today, we will take a look at their lowest-priced bike, the Allen Sports Downtown.
Unboxing Video
Features and Specs
Colors: Grey, Green, Blue
Speed: 1
Weight: 26 lbs (11.8 kgs)
Folded Dimensions: 15.4 x 33.5 x 28 inches (39cm x 85cm x 71cm)
Tires: 20″ x 1.5″
Valve on tire: Shraeder
Wheel Size: 20″
Frame: 6061 Aluminum
Forks: Lightweight Steel
Handlebar: Steel
Handlebar Post: Alloy one piece
Saddle: DDK 3166
Rims: P-6N Alloy
Crank Set: Samox
Front Brake: WinZip
Rear Brake: WinZip
Seat post: Hi-ten Steel
Pedals: non-folding
Maximum rider weight: 242 lbs.
Suggested rider height: 4'9″ (145cm) to 6'6″ (198cm)
Shipping weight: 34 lbs.
Box dimensions: 34 x 25.5 x 15.5 inches
Folding / Unfolding Video
Performance
There is a lot to like about this bike. I immediately see the differences in the first time I unfolded the bike. Basically I just needed to gently tap on the locking tab securing the 2 wheels, swing the handlebar to upright position, lock it in place, and finally open the frame by swinging out the front wheel. I really love the hinge levers on this bike because sometimes I even don't have to press them to the frame at all, they could automatically snap in place. This is a huge advantage because I always have to use a lot of pressure to secure 2 wheels and snap hinge levers on other folding bikes.
On the other hand, folding the Downtown is pretty straightforward and I really love the locking tab which is used to secure wheels. I just hate that it is still quite bulky and you might need a strap to fix the wheels and handlebar post. Anyway the locking mechanism could be the easiest and fastest on a folding bike I've ever tried. I could unfold the bike in 10 seconds and fold it in about 15 seconds. Hopefully the next generations or the more high-end bikes will make the pedals foldable, eliminate the needs of pressing golden button when pulling hinge levers, and make it easier to secure the handlebar post when folded.
In terms of riding experience, the Allen Sports Downtown is a 1-speed bike, so it works great on flat roads and doesn't require regular maintenance. If you are living in the city, 1 speed is more than enough. The Downtown provides a simple and smooth ride, and it is ready to use out of the box. I just took it out of the box and didn't need to bring to a bike shop for professional setup. The bike can easily fit inside my car trunk but notice that its shipping box is quite big and it might not fit, you can see the specs above for the exact dimensions of the bike and the shipping box.
As the Downtown is the cheapest folding bike in the series, it also has the lowest specs to reduce the cost. It is the heaviest one and also the only one that is not using 451MM wheels which can provide a more comfortable ride. However, it doesn't mean that this comes with cheap components. I've been riding the bike for one month and haven't got any problem. The frame is still very sturdy and the locking mechanism doesn't get loose at all.
Images
Test Riding
Conclusion
Pros
Effortless and fast folding mechanism.
Sturdy frame.
Cons
No folding pedals.
Bulky when folded and might require a strap.
High price when it is not on sale.
The Allen Sports Downtown is a good 1-speed folding bike and I totally recommend it if you can find it on sale. Don't hesitate to buy it when the price comes down to less than $300.
Regular Price: $449
Check price and read more customer reviews here