4 Comments
Brompton S1E Single-Speed Folding Bike Review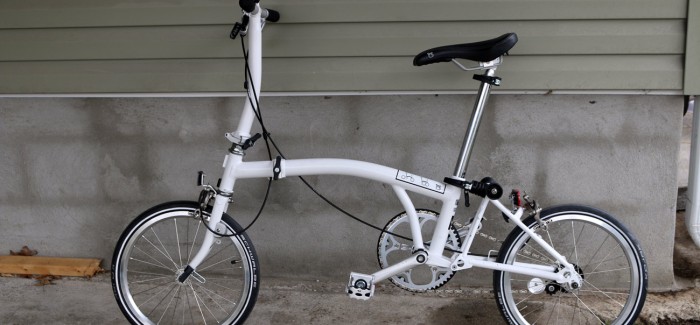 It's fair to say that Brompton is the brand that really needs no introduction in the world of cycling. There has been a lot of talk about Brompton bikes. You should know that Brompton constantly gains in popularity.
What is great about Brompton bikes is that they are highly customizable. It's worth noting that Brompton makes it possible for a cyclist to build his/her own bike fast and easy. In other words, if you give a preference to Brompton brand then you'll get an opportunity to select components for your own bike. As a result, you'll be able to build a bike of your choice.
Actually, it's pretty easy to build a bike with Brompton. All that you have to do is to take advantage of a bike builder provided on Brompton site. It's important to note that this great online tool has been designed to make the process of building a bike simple. So, it will take you a few minutes to select components and build your own bike. Once your bike has been created, you will be able to continue customizing it. Keep in mind that you'll be able to pick luggage and other options for your Brompton bike as well.
The reality is you can pick many various components for your folding bike. Among the components that you can choose for your bike are: frame material, type of handlebar, gears, main frame color, extremities color as well as such components as gear ratio, saddle height, lighting, saddle and type of tire. Above all, you'll be able to choose the type of luggage for your bike as well as transporting bag and charger for a bike. After you select all the necessary components, you'll be able to see the price of your folding bike.
There's been a strong belief among folding bike enthusiasts that Brompton is a luxury brand with high-quality products that could last for years and won't suffer from depreciation. I had the chance to test ride the Brompton S1E Single-Speed Folding Bike in the last few months and I must say it is really different to other bikes we have reviewed here. Let's check it out.
In this review, we would like to give you more details on Brompton S1E Single-Speed folding bike. First of all, we'll give you an opportunity to watch the bike's unboxing video. Then, we'll provide you with the information on bike's features and specs. After that, we'll provide you with some insights into Brompton S1E Single-Speed folding bike's performance. Plus, we'll outline the pros and cons of the bike. Finally, we'll help you come up with a conclusion whether Brompton S1E Single-Speed folding bike is worth buying or not.
Unboxing Video
Features & Specs
Weight: 22.4 lbs
Folded size: 22.2″ x 21.5″ x 9.8″
Shipping Weight: 27.7 lbs
Box Dimensions: 23″ x 24.5″ x 11.5″
Handle bar: S Type
Gears: 1 speed
Frame: Steel
Suspension: standard
Tires: Brompton Kevlar
Wheel size: 16″
Lighting: reflectors only
Made in UK
Performance
Unlike most other folding bikes, all Brompton foldings bikes are using 16-inch instead of 20-inch wheels. There are always compromises when it comes to wheel size, but I expect the Brompton S1E could has its own solutions to deal with the issues, especially when it has such a hefty price tag. An obvious advantage of the smaller wheels is that it can reduce not only the size but also the weight of the bike. As I place the S1E alongside the Dahon Speed Uno, you can see the S1E is significantly smaller and nearly 2 lbs lighter. This can make a huge difference if you really need a compact bike to bring everywhere. The Brompton can function as a shopping cart or be wheeled with luggage on it, so it will make your life much more convenient. You can bring it to public transportation, to supermarkets, or check it on your plane without paying extra charges for oversize or overweight baggage.
The S1E is one of Brompton's featured bikes. If you go to Brompton website, you can even build your own bike with a great deal of options. You will be able to customize handlebar, gear, gear ratio, mudguard, rack, frame material, frame color, saddle height, saddle, suspension, tyre and lighting.
The folding and unfolding process of the Brompton is a little more complicated than other 20-inch wheel bikes but if you compare it to some Dahon bikes with 16-inch wheels, the process is pretty simple and effortless. You just need to follow the exact instructions like demonstrated in the video below. Just remember to fully raise the seatpost when unfolding and fully lower it down when folding the bike. The seatpost acts as a lock of the Brompton bike, therefore, it should be the first to adjust when unfolding and the last to adjust when folding.
Folding and unfolding the bike is slower than my previous bikes because it takes some time to turn the bolt to tighten the hinge clamp plates. Besides, the clamp and lever look quite big, so the bike doesn't look as sleek as I expected. I find that the V-Clamp on Dahon bikes makes the folding process faster and also makes it look cleaner.
The frame of the bike is made of steel, so it seems quite stiff and strong. Brompton said the bike can deliver an efficient transmission of our energy, unfortunately, it still can't compete with high-performing bikes with bigger wheels (I'm mentioning 20-inch and bigger wheels). I have no problem reaching high speeds with this bike but I have to use quite greater force, especially when I start pedaling. That's the reason why I get tired very soon after just about 25 minutes. Besides, you should only ride the bike on paved roads because any pothole could cause you trouble.
Everything else about this bike is great. It is perfectly fit for me and I really enjoy smooth rides with no unstable steering occurring on many small wheelers.
Images
Test Ride
Pros
Compact and lightweight design.
Great customer support and spare parts.
Provides a very smooth ride.
Durable components.
Cons
The outdated clamp design makes folding/unfolding slower.
Performance and comfort are sacrificed.
The Brompton S1E is the most affordable folding bike by Brompton. This is a great choice if you are looking for a really portable folder that doesn't sacrifice performance significantly.
Conclusion
Brompton bikes obviously give cyclists more freedom. It's clear that Brompton bikes are a good option for those cyclists who want to be able to build their own bike. Generally speaking, Brompton S1E folding bike is a good folding bike. You are likely to be very impressed with the bike's design. The bike itself is lightweight, compact and comfortable. That means that you'll definitely find it easy to travel with such a folding bike as Brompton S1E. Obviously, Brompton S1E folding bike is an expensive model and not everyone can afford to buy it. If you are interested in purchasing this type of a folding bike, you must be prepared to pay up to $1,255. However, the bike is worth the money!