No Comments
Dahon Speed P8 Folding Bike Review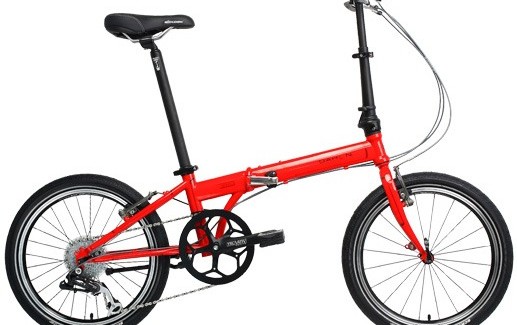 A good and comfortable bike is required when you decide to do lot of journey each day. A good mix of comfort, versatility, and price is the main theme of the Dahon Speed P8, built with sturdy frame to take care of the roughest rides.
Are you worried of your new bike being stolen? Don't worry! All that you need to do to prevent the bike from being stolen is to bring your bike inside a building (if it's allowed). Never leave your bike outside! Dahon Speed P8 is an easy to use folding bike. Keep in mind that it will take you too long to fold (or unfold) your bike. The manufacturers have made the process of folding/unfolding the bike very simple.
It's worth noting that Dahon Speed P8 is a very compact bike that doesn't occupy too much space. That means that you'll never find it hard to take your bike on car, bus, train and other type of public transportation. It's pretty clear that Dahon Speed P8 folding bike has been designed with rider's comfort and convenience in mind. Therefore, it would be easy for you to transport your bike and, therefore, to travel with your bike.
Cyclists are very impressed with the design of the bike. It's worth noting that Dahon Speed P8 is one of the most attractive Dahon's folding bikes. You need to know that the bike comes with two colors only. So, you'll be able to purchase either white (frost) or red (fire) Dahon Speed P8 folding bike.
Dahon Speed P8 would be the perfect option for cyclists who are interested in purchasing a high quality folding bike. It's clear that Dahon Speed P8 makes a difference as a great-looking folding bike. The bike has been made of high quality components. Dahon Speed P8 is an adjustable folding bike. With Dahon Speed P8 folding bike you'll be able to enjoy riding under various conditions. It's also important to note that the bike's frame geometry makes it possible for cyclists to get enhanced stability, control as well as comfort during a ride.
Is Dahon Speed P8 folding bike worth its money? Does it make sense to buy Dahon Speed P8 folding bike? Is Dahon Speed P8 folding bike a good option in terms of design, riding experience, mobility and durability? Is the bike comfortable and safe? Is it easy to take the bike on public transport? In this Dahon Speed P8 folding bike review, you'll be able to get the answers to all of these important questions.
Unboxing Video
Features and Specs
Color: Red (Fire), White (Frost)
Speeds: 8
Weight: 27.0 lbs (12.3 kg)
Folded Dimensions: 12.60″ x 32.28″ x 26.38″ (32 x 82 x 67 cm)
Frame: K-Series superlite 4130 Chromoly
Fork: dalloy aluminum with integrated crown
Tires: Streetpac 20″ x 1.75″
Rims: 20″ aluminum double wall
Handlepost: adjustable forged alloy Radius Telescope
Handlebar: 6061 Double Butted Aluminum flat bar
Front Hub: 74 mm compact alloy 20 hole
Rear Hub: Sealed bearing aluminum FreeHub, 28 Hole
Bottom bracket: Sealed Bearing
Chain: KMC Z82
Rear Derailleur: DAHON Super Compact Neos 8
Shifter: DAHON Neos Twist Shifter
Brakes: Winzip 110 mm V-Brakes
Seatpost: DAHON Custom 6061 Aluminum
Kickstand: Alloy
Suggested Rider Height:  4'8″- 6'4″ (142-194 cm)
Rider Max Weight: 231 lbs (105 kg)
Pedals: Foldable
Carton dimensions: 12.5″ x 33″ x 25.5″
Shipping weight: 35 lbs (15.8 kg)
Folding & Unfolding
Performance
This Speed P8 is ideal for lengthy rides, on tour, as well as weekend exploring. It provides you the identical frame seen on Dahon Speed Uno and Dahon Speed D7. The Speed P8's rigid Radius handlepost, rigid frame, and plush-riding Streetpac tires provide smooth rides on bad roads. This is the ideal all-purpose folder coming with Dahon's latest technology, high-quality frame material and components, these kinds of bikes will help you get to the destination with comfort and punctuality.
Speed P8 used to include the Schwalbe Big Apple tires which absorb a great deal of shock but the new version comes with Streetpac tires. The tires are slightly slimmer, so you can maneuver easier and they still deliver comfortable rides.
Featuring a rigid frame along with locking knobs, this is just about the most durable bikes. The folding and unfolding process is so fast and easy, just like most other Dahon folding bikes. Dahon managed to make the bike even lighter than the Dahon Speed D7, however, it is still quite heavy as compared to some other bikes.
As it was mentioned above, the bike comes in two colors, red and white. That's the reason why so many of you might think it is designed for female riders. Apparently that's not true. I got the Red version but it is not all red. The bike is a combination of red and black, and this is always one of the best color combination in designing high-end stuffs like cars or designer clothing. While the frame is red, everything else like seatpost, handlepost, wheels come in black, therefore, it looks so gorgeous.
Images
Test Ride
Pros
Beautiful design
A smooth ride and a really feel solid.
Excellent in any weather.
Good-quality components ensures that this is a durable bike.
Cons
This bike feels heavier. Weight of 27 pounds is a downside of this bike.
The bike is not fast.
Final Thoughts
This is a high-end folder in the Dahon Speed series and it is more expensive as well. If you don't particularly love the color and an extra speed, you might get the Dahon Speed D7 to save some bucks. On the other hand, Dahon Speed P8 is lighter than Dahon Speed D7 model. The reality is Dahon Speed P8 weights 27 pounds only. So, it would be great for you to explore all of options and analyze customer reviews carefully prior to making a final decision whether the bike is worth buying or not.
Dahon Speed P8 is a multi-purpose bike that comes with everything you need to enjoy a ride either around the city or in rural areas. However, this model has become an incredibly popular option among urban cyclists. With Dahon Speed P8 folding bike you'll be able to reach any part of the city on time. Dahon Speed P8 folding bike is also known for being a great traveler's bicycle.
Dahon Speed P8 folding bike is suitable for everyday use. You'll be able to ride the bike under any weather condition. Dahon Speed P8 is likely to serve you well for years even if you choose to use the folding bike on a daily basis.
Read more customer reviews here…
Regular Price: $699