3 Comments
Dahon Ios S9 Black Folding Bike (2014 model) Review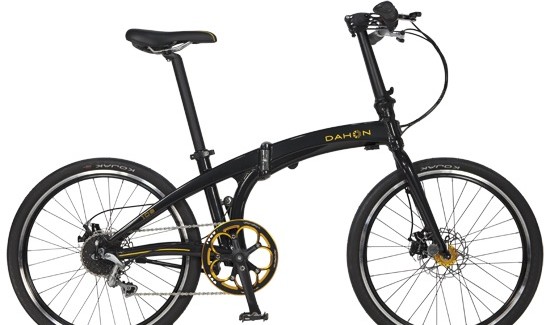 Elegant is the word for describing the new Dahon Ios S9 Black bike. It is truly a rare beauty to behold on a road with its shadow black colour and anodized gold trim. Anodizing the trim makes it resistant to corrosion. It is remarkable that this bike goes for a very affordable price.
The Dahon Ios S9 folding bike would be the perfect choice if you need to go uphill and downhill often during your cycling trips. It's worth noting that the bicycle comes with a hydroformed dalloy frame and has 9 speeds. So, you'll find it comfortable to ride your bike and overcome various challenges.
The Dahon Ios S9 folding bike is best known for its DAHON Flatpak technology. This type of technology allows a cyclist to fold or unfold his/her bike very quickly. The process of folding/unfolding the Dahon Ios S9 bicycle is simple and takes about 10 – 20 seconds.
Another important thing that you need to consider is that the Dahon Ios S9 folding bike is compact when it's folded (the bike's folded size: 40 x 85 x 77 cm). That's why cyclists find it easy to transport the Dahon Ios S9 folding bike. The reality is the bike can be easily taken on a bus and on train.
Would you like to transport your bicycle inside a car? No problem! Keep in mind that the Dahon Ios S9 folding bike will fit into the trunk of your car easily. That means that you'll be able to travel by car with your Dahon Ios S9 folding bike.
It's also important to note that Dahon Ios S9 folding bike has lightweight parts (a lightweight frame, a lightweight fork, a lightweight handle bar, a lightweight seatpost and others). So, it wouldn't be difficult for a cyclist to ride the bike. It's worth noting that the bike itself is lightweight (the bike's weight = 9.4 kg). That means that you'll find it easy to carry your Dahon Ios S9 folding bicycle if such a need arises.
We all know that the rider's safety has been always the number one priority for Dahon. And of course, such a folding bike as Dahon Ios S9 is no exception! The reality is Dahon Ios S9 has strong mechanical disk brakes that make it possible for a cyclist to stop a folding bicycle easily and quickly when it's necessary. It's important to know that mechanical disk brakes of this type can do great job in any weather. So, the bike's breaks will contribute greatly to rider's safety.
Dahon, the manufacturer of this black beauty, is a world leader in bikes and folding bikes technology. With decades of experience in bikes and folding bikes technology, they have successfully shaped the way we move from one place to another.
The compact design of Dahon Ios S9, a product of Dahon's flatpak technology, makes it possible for riders to easily fold for small pack. It is thus suitable for various purposes – folding and stowing it in the trunk of a car to be taken for a trip, taking it for an evening workout in a park and even taking it to the train station for some long distance travel.
Experienced riders know not to maintain the same posture for different terrains. Depending on whether the rider is going uphill or down, they may need to lean forward or relax. This posture manoeuvring is made easy on Dahon Ios S9 with a flex-adjust, which makes it possible for riders to effortlessly switch riding positions to adapt to prevailing road conditions.
Features and Specs
Weight: 28.6 lbs (12.97 kg)
Folded dimensions: 15.7″ x 33.5″ x 26.7″ (40 cm x 85 cm x 7 cm)
Speeds: 9
The tires are puncture resistant Schwalbe Kojak (24″ x 1.5″) and the rims are 24″ lightweight aluminium semi aero double wall.
The frame and fork are both formed from very strong and yet light Dalloy Aluminum. The frame is Hydroformed Dalloy Aluminum.
The spokes are made of 14 g Stainless Steel while both the Front Hub (DAHON Disc 100 mm) and Rear Hub (DAHON Disc 135 mm) have 32 Holes.
The Crankset is a Forged Alloy 53 Tooth Chainring with Single CNC Guard and only a rear derailleur.
The saddle and the handlepost are ergonomically designed and will support the rider's height range of 142 – 195 cm (4′ 8″ – 6'5″)
Images
Pros and Cons of the Bike
It's no surprise that every bike has weak and strong sides. And of course, it would be better for you to familiarize yourself with the Dahon Ios S9 folding bike's pros and cons in advance. Now, let's talk about the advantages and disadvantages of the bike. Hopefully, this will help you decide if Dahon Ios S9 folding bicycle is a good option for you or not.
Pros
With the Mechanical Disc Brakes commuters can comfortably ride under any weather, even when the road is wet.
The large 24″ wheels offer more speed and comfort.
It is appropriately priced and affordable.
Adjustable handlebar and seatpost give flexibility of posture and offers adaptability to different terrains.
The strong and durable aluminium frame can comfortable support weight of up to 230 lbs – a comfort to plus size individuals like me who take special precaution about what we rest our weight on.
Cons
Fenders are not included in the package, so riders run the risk of getting their clothes dirty when riding on wet roads.
Replacements for disc brakes are not always readily available.
Replacements for broken or bent fork are not readily available too, although this is rarely an issue, since forks do not break or bend often.
Conclusion
Durable, Beautiful and affordable, the Dahon Ios S9 has got everything going for it as far as bikes are concerned. Going uphill or down, smooth or bumpy road, Dahon Ios S9 is made to give you more than the worth of your money in miles and pleasure. If you want to save some money, you might want to check out the older model Dahon Ios S9 Orange and Black.
The big question is – what do cyclists like (or dislike) about the Dahon Ios S9 folding bike? Let's take a look at customer reviews to get the answer! The vast majority of cyclists are happy with the Dahon Ios S9 model. According to their opinions, the bike provides cyclists with great riding experience. Additionally, cyclists really like the Dahon Ios S9 bike's design.
Click here to see updated price and read more customer reviews …