One Comment
Montague Crosstown 700c Folding Bike Review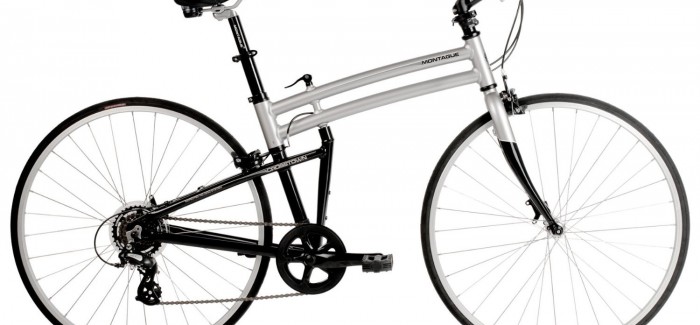 The Montague Crosstown 700c Folding Bike is a clever integration of the patented CLIX system that enables it to fold and release quickly and a strong frame construction design that makes this bike the strongest folding bike in the market.
This bicycle comes with 700c tires that make riding in town or on rugged terrain easy and comfortable. Utilizing its ground-breaking CLIX and FIT system technologies, the Crosstown is easy to handle and carry around.
Key features and Specifications
Color: Gray / Black
Folded Size: 36″ x 28″ x 12″
Weight: 27 lbs
Speeds: 7
Shifters: RevoShift Shimano 7-Speed
Frame: Aluminum tubing having FIT System, Custom drawn 7005 Series
CLIX system: this system makes it easy to fold the Crosstown in less than 20 seconds with a clever secondary locking system that prevents the bike from folding back if you forget to tighten the Quick Release lever.
Wheels: the Montague Crosstown bicycle comes with a set of 700c wheels which are better that the more common 16″/20″/24″ wheels. The 700c wheels are ideal for both on-road and off-road biking.
Adjustable Stem: the adjustable stem allows the handlebar height to be adjusted without compromising the bike's handling and comfort. The octagonal-shaped stem can also be raised or lowered while still engaging in steering.
FIT System: the Folding Integrated Technology (FIT) enables one to fold the bike without needing to break it. This feature makes it the strongest folding bike in the market.
Saddle: Performance Gel comfort
Hubset:  Formula. Alloy CLIX front quick release
Seatpost:  30.0 X 300mm Alloy
Spokes:  14 Gauge Stainless
Handlebars:  Riser style 30 millimeters rise. 580 millimeters wide.
Images
Conclusion
Pros
Montague Crosstown is easy, quick to fold and release.
It is available as readily assembled.
You can easily store and carry it around
The tires have a high-profile configuration which simplifies wheel removal
The 700c wheels, have good traction and can soak up bumps well and it does not require addition of shocks on its front fork.
Montague Crosstown 19 Boulder Mountain Bike has good speed on and off-road.
Quick and easy handlebar tube and seat stem tube adjustment; takes about a minute.
Cons
It may not fit in the trunks of some cars even when folded
The Montague Crosstown Pavement Bike is a well designed and executed bike. The parts are reliable; the speed is great; while being very comfortable and affordable. If you've never tried using foldable bikes, then this one will really change your perception of foldable bikes. If you ride to work and still take the occasional off-road adventure, this bike will adapt to both situations with no fuss at all.
Read more customer reviews here.