12 Comments
Dahon Speed Uno Review - A Premium Single Speed Folding Bike?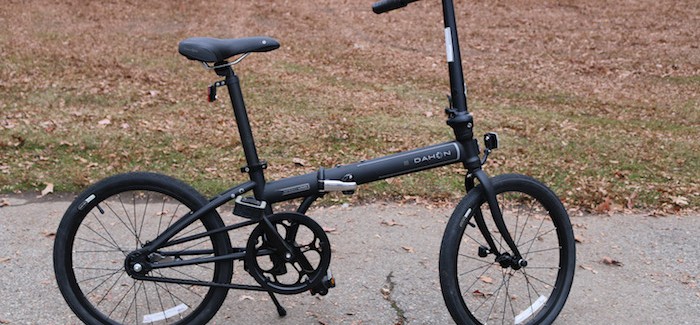 Dahon Speed Uno is considered the compact version of Dahon Mu Uno. It has a simple design that will be suitable for any commuter in crowded cities.
Dahon Speed Uno obviously makes a difference as a lightweight and single speed folding bike that comes with a rear coaster break. The cool thing about this bike is that it weighs only 24 pounds. In fact, Dahon Speed Uno is known for being one of Dahon's lightest bikes.
It's also important to note that Dahon Speed Uno is a universal folding bike. In other words, you can ride a bike on flat streets in urban areas. On the other hand, Dahon Speed Uno is an ideal option for rural areas.
Dahon Speed Uno is a folding bike that will most likely impress you with its beautiful one-speed design. It goes without saying that this type of a folding bike will fit the lifestyle of urban commuters in the best possible way.
The bike itself is very simple. That means that it will not take you too much time to figure out how to fold or unfold the bike. It's pretty clear that Dahon Speed Uno is the bike that has been designed to make the folding and unfolding process simple.
It's clear that Dahon Speed Uno is a folding bike that has been designed with safety in mind. The reality is the bike has a secondary lock on every bike's latch. And of course, this is something that makes Dahon Speed Uno folding bike more secure.
All of this means that riding Dahon Speed Uno bike is likely to provide you with great experience. In this review, we'll give you more details on Dahon Speed Uno folding bike. First of all, we'll watch the unboxing video to get some insights into the bike. Then, we'll talk about the key features of Dahon Speed Uno bike. After that, we'll watch Folding and Unfolding video. As a result, you'll get an understanding of how to fold and unfold the bike. Later, we'll dig deeper into the bike's performance. Lastly, we'll outline the pros and cons of the Dahon Speed Uno premium single speed folding bike. Thus, you'll be able to make your own conclusions and decide whether Dahon Speed Uno folding bike is worth buying or not.
Let's check out all features and tech specs of Dahon Speed Uno to understand more about the bike.
Unboxing Video
Features and Specs
Single Speed
Folding size: 11.7″ x 30″ x 25″
Weight: 24.2 pounds
Rider is recommended to be around 4′ 8″ to 6′ 4″ tall.
The maximum weight of rider is 230 pounds
Folding time is less than 15 seconds
Gear inches: 64
Frame: K series, SuperLite 4130 chromoly with custom-drawn double-butted Sonus tubing, forged lattice hinge, patented ViseGrip technology.
Handlepost: Radius, fixed, patented Fusion technologies, forged aluminum
Handlebar: 6061-T6 aluminum, Flat bar
Grips: BioLogic Ergo, single density
Front hub: Dahon Mini
Rear hub: single speed, Shimano coaster
Rims: Aluminum, single wall
Chain: KMC Z410
Tires: Dahon Rotolo, 20″ x 1.75″, high-pressure 65 psi
Crank set is polished by hand and it comes with cold-forged 6061-T6 aluminum crank arms.
Pedals are Suntour folding and non-slip
Aluminum kickstand
Color: Shadow
Folding and Unfolding
Performance
The bicycle could remind you about the one you rode when you were a kid. As this is a single speed, it does not have a front brake. The minimal design will also result in the low weight. In fact, Speed Uno is one of the lightest bikes manufactured by Dahon. You should pick the Mu Uno if you really need a lightweight one. The Speed Uno is just a little heavier but there is a plus, you won't see the mess of brakes, cables and cable carriers.
Notice that this bike is single-speed but not fixed-gear, so you still can coast without pedalling. In my own opinion, this is a perfect choice for urban riders who just want a simple and compact bike to commute around the city. Once you get used to the coaster brake, you will appreciate how it contributes to the clean design of your bike, and it will help you carry the bike to any place easier.
Images
Test Riding Video
Conclusion
Pros
It takes less than 15 seconds to completely fold or unfold the bike.
Super compact and lightweight.
Beautiful minimal design
Perfect for riding in the city
Durability of parts
Drive safely without disc brakes
Cons
It takes practice to get used to the pedal brakes and control the bike
It doesn't include mudguard/fender
This is undoubtedly a high-quality folding bike that is affordable for most riders. We highly recommend the product.
Regular Price: $419.00
If you take a closer look at Dahon Speed Uno bike's customer reviews, then you'll be able to discover that this type of a folding bike is an incredibly popular option among cyclists of all skill levels. According to the statistics, up to 56% of customers have left 5 Star reviews and up to 24% of customers lave left 4 Star reviews and only 9% of customers have left 3 Star reviews about Dahon Speed Uno folding bike. Only 11% of consumers are not happy with the bike. So, they have left 2 Star and 1 Star reviews about Dahon Speed Uno.
People say that Dahon Speed Uno is a great bike for those who would like to ride on a daily basis. Dahon Speed Uno is an easy to use bike. Thus, so many cyclists find it easy to fold, unfold and ride the bike. Generally speaking, customer reviews say that Dahon Speed Uno is a perfect folding bike that has everything that's needed to enjoy a comfortable ride.
Check price and read more customer reviews …