No Comments
Retrospec Speck Folding 7-Speed Bicycle Review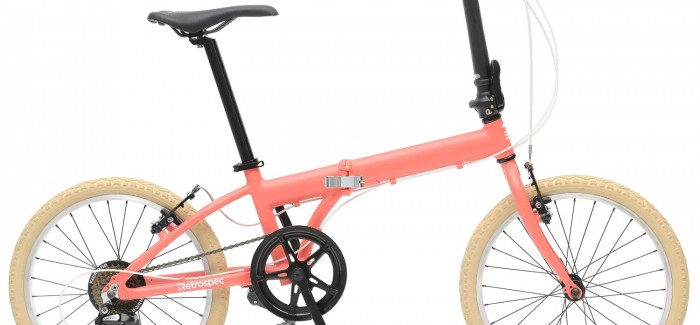 If you need something not so expensive but worth every penny you give for it, then Retrospec Bicycles Speck Folding 7-Speed Bicycle is the right choice, this is the more high-end version of the Retrospec Speck Single-Speed Folding Bike. Today it's a really rare to find a reliable bicycle like this which also has a power and style. It's upgraded folding bike which allows you to go on any road that you want and start your adventure. Company that developed this type of bicycle has a good reputation and promises high quality so I can say it is reliable.
This bicycle has seven speeds and is designed for going on any path, including down and up hills. It doesn't weight too much so you can carry it everywhere. Bikers can count on pedals like on regular bikes when doing a daily routine. When we use bicycle often we must count on scratching them or damage but this bicycle is proved to stay good like at the beginning.
Features and Specs
Color: Graphite, Matte Navy, Matte Coral and Matte Black.
Wheel size: 20 inches
Weight: 29 lbs
Folded dimensions: 10″ x 30″ x 22″
Frame: Hand-Built Aluminum Frame and Fork
Speeds: 7
Rear and front Promax hand brakes
Folding time is about 15 seconds.
Lightweight durable hand-made aluminium frame
20″ wheels, rounded smooth tread having large water dispersion grooves
Ideal for riders between 4'8 and 6'6, under 240 lbs.
Available for shipping in other countries, not only U.S.A
Images
Conclusion
Pros
Possibility to choose between seven speeds, so you will be able ride on different terrains and get to your destination faster.
Aluminium hand built frame which provides a light weight and durability.
Compact components.
20″ Kenda Kwest commuter tires' capacity keeps your ride stable on slippery surfaces with large water dispersion grooves.
Front and rear Promax hand brakes so you can squeeze to a stop easily.
Shimano seven-speed FreeWheel having Shimano Revoshift grip shifter.
Handlebar's height is adjustable.
Cons
Price can't be justified for many consumers.
Not comfortable for heavier cyclists.
Crank length is a bit small to accommodate a taller individual.
No fenders and rear rack.
No locking mechanism when being folded, so you will need to use a binding strap to secure the wheels together.
This Retrospec Bicycles Speck Folding Seven Speed Bicycle is something you won't regret buying for if you love riding and need also something which will promise you to get to your destination as soon as possible. Many good and quality bicycles today offer only one single speed but this bicycle offers you seven which is perfect, you must confess. Its price could be an obstacle but when you think thoroughly, with a 7-speed folding bike, high quality, transportable and other advantages, isn't this price realistic? The Dahon Vybe C7A really has a tough competition now at this price range.
All components are hand built and thanks to the aluminium frame, you can count on durable adventures with this beauty. I haven't got any problem with this bike but the Retrospec Speck Single-Speed arrived damaged with the rear wheel totally out of shape. As the two bikes use the same exact materials, it makes me really doubtful about material quality on this bike. You can't expect that you will get something so good and reliable if you aren't sometimes in life ready to give more money than you want. It's better to have something durable than buy something cheaper and have to fix it always, search for cheap mechanics and other things like that, right? Therefore, I still recommend the Dahon Vybe C7A over this bike.
See updated price and read more customer reviews