8 Comments
Retrospec Speck SS Folding Bicycle Review - A Single Speed Challenging Dahon Speed Uno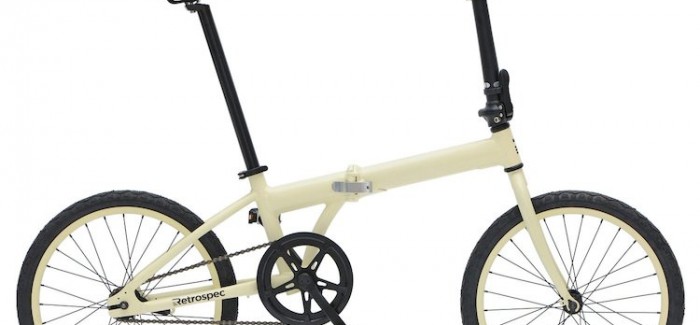 When it comes to commuter and urban dwellers' choice for a bike, many consumers trust Retrospec Bicycles. This company has been closely identified with manufacturing these types of bicycles since 2008.
Retrospec Bicycles Speck Folding Single-Speed Bicycle is known for being one of the best folding bikes of the popular brand. This model would be a great choice for cyclists who are in search of a folding bike for riding around the city.
Travelers should also pay a close attention to Retrospec Bicycles Speck Folding Single-Speed Bicycle. It's worth noting that this type of a folding bike is easy to carry. The fact is that the bike has a lightweight aluminum frame. It's widely known that aluminum is lighter comparing to steel and other materials. That means that you'll certainly find easy to take a bicycle on a bus or on a train during your travel.
Keep in mind that Retrospec Bicycles Speck Folding SS Bicycle is a very compact bike that doesn't occupy too much space. The bike will be even smaller if you choose to fold it. So, it wouldn't be difficult for you to store a bike in small spaces. Do you need to store a bike? If so, it's necessary for you to fold a bike. It's important to note that the manufacturer has made the process of folding/unfolding a bicycle. All that you need to do is to hold bike's handlebar tube as well as bike's top tube and pedals. Keep in mind that it takes an experienced cyclist no more than 10 seconds to fold Retrospec Bicycles Speck Folding SS Bicycle.
Today, we are going to review Retrospec Bicycles Speck Folding SS Bicycle. In our review, you'll be able to find the unboxing video that will help you get familiar with the bikes. Then, we'll describe the bike's key features briefly. As a result, you'll know what to expect from the bicycle. Plus, we'll share the video that shows how to fold and unfold a bike. Next, we'll outline the bike's pros and cons. This will help you decide how to get the most out of the bike. Above all, we'll provide you with the important statistics on the bike's customer reviews. So, you'll be able to see whether cyclists like or don't like the bike. Lastly, we'll help you draw the conclusion about Retrospec Bicycles Speck Folding SS Bicycle.
City dwellers are known to patronize a product that makes living in the city easier and less complicated. Retrospec Bicycles Speck Folding Single-Speed Bicycle is a foldable single speed bike that allows its rider to pedal backwards when there is a need to stop, this is similar to the Dahon Speed Uno. Here we see two things that work in its favor: single-speed and folding capabilities which means it occupies less space. This bike is categorized under leisure rides.
This folding bike really does live up to its reputation that allows riders to fold the bike in an estimated time of 20 seconds. Restrospec is proud to launch this folding bicycle that does not require the use of special cables or other gears to fold. This was tested and proven to be true by owners who have purchased this bicycle. Restrospec Bicycles Customer Care is known for its fast response to parts that needs to be replaced without questions asked.
Unfortunately, I have to say this is one of the worst folding bikes I've ever reviewed. In fact, I even couldn't ride it because it arrived damaged. As you can see in the videos and images below, the rear wheel rim is totally deformed and bent, and some spokes are out of place. I'm not sure if the damage is caused by transportation, bad quality control of Retrospec, or the cheap materials used on this bike.
Then I discovered some more issues of the Speck. Firstly, the included manual is for a different bike, so you won't find any instruction for this bike. Secondly, the pedal is so stiff that I couldn't fold it back. And most seriously, the handlebar can't be adjusted perpendicularly to the front wheel, it is always 5-10 degrees out of alignment, therefore, it could be very dangerous riding the bike. Notably, I read some reviews of the bike and realized there are many similar complaints of those issues.
Unboxing
Features and Specs
Here are some of the key features of Retrospec Speck Folding Single-Speed Bike:
Available colors: Cream, Graphite, Matte Black, Glossy White, Matte Coral, Matte Navy.
Weight: 23.5 lbs
Folded size: 10″ x 30″ x 22″
Hand-built aluminum frame and fork; 30% lighter than steel or chromoly
20-inch wheels
Alloy Crank with 48T chainring
Comes with Kwenda Kwest commuter tires
Folding pedals
Strong 16T Coaster Brake Cog
Alloy seat post with comfortable saddle
Folding and Unfolding
Images
Pros
Comes with a ergonomically comfortable saddle; makes commuting easy.
Super lightweight for a single-speed bicycle.
Allows large amount of water dispersion through its specially designed commuter tires.
Simple yet elegant design.
The height of handlebar is adjustable.
Cons
There is still a need to take it to a local bike shop before riding it to ensure safety and that all parts are where they should be.
Made of cheap materials, so the frame and wheels are not sturdy enough. My bike arrived damaged.
Bad manual which shows instructions for a different bike.
I couldn't align the handlebar perpendicular to the front wheel.
I couldn't fold the pedal back.
Needs a little getting used to it for those who are not accustomed to using coaster brakes (back pedaling brakes). Other bicycles usually offer front and back brakes
Crank length is a bit small to accommodate a taller individual
Only suitable for casual riding.
Mudguards and rear rack are not included.
It is heavier than advertised, its real weight is 23.5 lbs.
Inconvenient locking mechanism, you will need to use the included strap to secure wheels in the folded position.
Conclusion
It cannot be denied that Speck is a good-looking bike to cruise in the neighborhood for a quick spin or for daily exercise. Ideally it can be used in flat surfaces and climbing smaller hills. This bike has undoubtedly left behind a good impression for many customers but not me. I don't recommend this bike until Retrospec Bicycles fix the aforementioned issues. The Dahon Speed Uno is priced higher and it is totally worth the extra money. It goes without saying that this type of a folding bike will meet your needs and exceed your expectations. However, all people are different. So, they think differently. Below, you'll be able to analyze the statistics on Retrospec Bicycles Speck Folding SS Bicycle. And of course, this will help you get an understanding of what other cyclists say about the folding bike.
Costomer Reviews
Generally speaking, the vast majority of cyclists have left positive reviews about the bike. The statistics shows that up to 51% of consumers have left 5 Star reviews about the bike, up to 20% of consumers have left 4 Star reviews about the bike and up to 14% of consumers have left 3 Star reviews about the bike. So, totally cyclists are happy with Retrospec Bicycles Speck Folding SS Bicycle. On the other hand, only a few consumers have left negative reviews about the bike.
Click here to see updated price and read more customer reviews